Catalyst Press was founded with the belief that change—from incremental shifts to whole movements—starts with a spark. Founded in 2017, this small but mighty press aims to ignite conversations across continents and encourage empathy, one book at a time. By "bringing voices from around the globe to readers everywhere," they are creating a global community with their books, which run the gamut, from literary fiction to graphic novels to books for young readers.
The creators of Catalyst Press also started #ReadingAfrica, a yearly celebration of African literature, which you can look forward to every December.
Members of the press' staff have answered a few questions about the challenges and joys of working at independent press and about their next projects.
*
What are some of the benefits of working at an independent press?
I really do love the fact that I get to put out great books that I love, and that I can proudly claim responsibility for it as the publisher. I'm also so lucky to work with the amazing people who have decided, somehow, that they believe in Catalyst Press. We have fun together. Recently, SarahBelle's partner mentioned that he loves hearing us all on a call together because we laugh so much. How great is that?
So I work with people I love, doing creative work that also challenges me intellectually, and I feel like I'm doing worthwhile work too. These are books nobody else is championing, nobody else is taking on the risk of these books, but when readers see them, they go, "Oh! Wow! That's amazing." What a great feeling.  –Jessica Powers, Founder & Publisher
I came from working at one of the big Manhattan houses to working at Catalyst, and at risk of sounding very cheesy, it really did feel like magic came back into my work when I joined this press. Suddenly it wasn't about the P&L sheets, or Twitter followings, or the politics of publishing; it was about how a book felt, the truths we could speak through it, the communities we could represent, the writers we could elevate. It felt, and feels, much more personal and closer to that magic that brought us all to books in the first place.
And I can feel that in the way we interact with our authors—the way we chat every day, the excitement that lights up our inboxes and phone screens. It comes from a place of love, not business, and that feels very rare and precious. We publish fewer books a year, too, which means more time sitting with the authors and their work, sipping too much coffee, making sure we're representing them the best way we can.  –SarahBelle Selig, Publicity and Head of Catalyst's South Africa Office
*
What are some of the challenges of working at an independent press?
As the sole owner of this independent press, I bear the challenge of figuring out how to finance it all. That is not easy, ever, in publishing and it is especially difficult when you're this small, and publishing global literature from Africa. The sales expectations rarely exceed expenses. I am constantly in the process of trying to figure out how to change that dynamic. I can't underestimate the challenge.  –Jessica Powers, Founder & Publisher
As a publicist, and Ashawnta can attest to this too, it always feels like there's more we can be doing. And it's tough when there are limitations—financial, as Jessica mentioned, but also just time, coming from a small team where all of us have other jobs to support ourselves and our families—because you want nothing more than for every reader in the world to know about these books that you've believed in and fought for and these authors that you adore and admire. So, I guess it's managing your own expectations more than anything. It's having to reign in all that fire and imagination when there's just not enough time or money available to let it run free.  –SarahBelle Selig, Publicity and Head of Catalyst's South Africa Office
Time is always an issue, as is reach. We're small, and it's often hard—despite the awards, starred reviews, and other industry accolades— to get people to pay attention. And by people, I guess I mean readers. We love the praise, don't get me wrong, but that doesn't always reach everyone. We're still figuring out how to balance these very exciting successes with our difficulties in reaching book-lovers.  –Ashawnta Jackson, Head of Publicity and Marketing
*
Is there a particular quality, style, or other characteristic that connects the projects that you take on?
Of course we publish stories from and about Africa—but I think it goes deeper than that. We're not buying into this very one-dimensional view of the Continent, the kind that maybe sells the best because it's what people expect. We publish books that defy what the world thinks it means to be African. What the world thinks Africa looks like, sounds like, tastes like. We're always searching for stories and writers that subvert the expectations of African literature and bring something fresh to the table.  –SarahBelle Selig, Publicity and Head of Catalyst's South Africa Office
*
Were there any titles in particular that were game-changers for your business?
We've had a lot of game-changers and maybe Ashawnta or SarahBelle will mention something else but Small Mercies by Bridget Krone was our first book to get lots of rights sales. Walker Books in the UK bought UK rights to it, and it's sold Chinese rights, Taiwanese Chinese rights, and Spanish rights, not to mention audio book rights. We've since sold other rights to other books but this was our first big one.  –Jessica Powers, Founder & Publisher
Siphiwe Gloria Ndlovu's City of Kings trilogy, too, I'd say. Siphiwe recently won the Windham Campbell Prize for her work, and I think we all still pinch ourselves that we get to be her US publisher. We're releasing our third book from her—the last in the trilogy—this year, and it's nerve-racking and thrilling to be one of the people wholly responsible for its publication.  –SarahBelle Selig, Publicity and Head of Catalyst's South Africa Office
*
What are some of the biggest risks you've taken as a business? How did you navigate them?
I think the biggest risk was doing this at all. Honestly! Deciding to go into publishing is probably a foolhardy choice. But I did it. And then the next biggest risk was hiring people to help me. That feels like a big responsibility. But I did it. Another risk was choosing to publish African writers and African-based books. But I did it. While it seems like people are paying more attention to African literature now, when I first started planning for this in 2015/2016, nobody really did.  –Jessica Powers, Founder & Publisher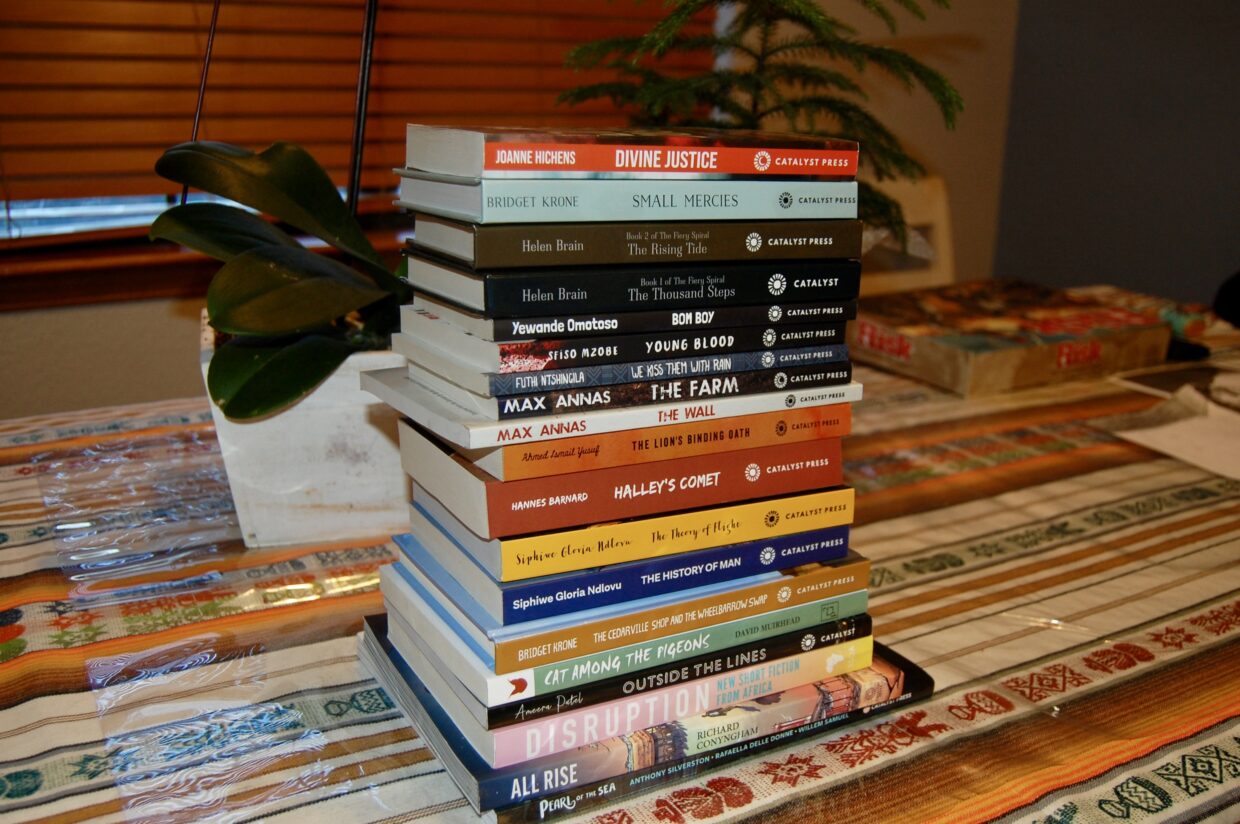 *
What are some projects you're particularly excited about at the moment?
I am soooo excited about the graphic novels we've started putting out, which we've rebranded as the Panel and Page series… I hope there are more to come. Also, in general, our children's literature is getting a lot of attention and I couldn't feel more proud. I come from children's literature as a writer, that's my background. Finding excellent children's literature written by African writers has been difficult, for a variety of reasons, but this is one of the single biggest factors that keeps me going–the idea that I might be able to encourage more African writers to engage with children's literature.
Speaking of children's literature, I'm super excited to be publishing a small gift book/bathroom book/photo book, with photos taken by my 13-year-old niece of her pet toad, which she dresses in a variety of amazing hats that she makes herself. It's not a children's book but it's created by a child and it's so hilarious and wonderful. Bait the Toad–look for the book and the calendar later this year.  –Jessica Powers, Founder & Publisher
Oh man, what am I not excited about? But if I had to choose, it's been very fun to carry books through the whole process of publishing from start to finish; there's a few of our forthcoming titles that I either read through a cold submission and pushed for, or found out about and pursued, specifically Eye Brother Horn which just released in January, KARIBA, a stunning middle grade graphic novel coming out in June, and Barbara Erasmus' North American debut coming in 2024. It's a bit of a selfish, secret joy of "midwifing" a book into the world, as one of my dear friends Cathy Park Kelly once described it. Jessica, I think I finally understand why being a publisher is both so exhilarating and so intimidating.  –SarahBelle Selig, Publicity and Head of Catalyst's South Africa Office
*
What's another indie press you love/would recommend?
Well, I'm a big fan of Readers to Eaters, with their line of children's books that discuss food issues, culture, and the missions that inspire important food creators (growers/chefs/etc). Deep Vellum shares a lot of our values for publishing global literature and translated books. And I always have to give a shout out to Cinco Puntos, where I worked for many many years before it sold to Lee & Low.  –Jessica Powers, Founder & Publisher
Living in Cape Town, I get to interact with so many badass female publishers in South Africa doing amazing, groundbreaking work—Blackbird Books, Modjaji Books, and Karavan Press to name a few.  –SarahBelle Selig, Publicity and Head of Catalyst's South Africa Office
I think Graywolf is doing great things, particularly with their African Fiction Prize. And Akashic Books is also a favorite. I love their Noir series and my nephew's new favorite song is "We're Not Gonna Take It" because of their LyricPop series, a strong example of books changing lives, I'd say.  –Ashawnta Jackson, Head of Publicity and Marketing