It's that special time of year again, when thousands of writers descend upon a host city for panels, off-site readings, and general rumpus for the AWP conference. This year, the festivities are in Seattle, one of two US cities to be dubbed a UNESCO City of Literature. We've already recommended how to spend a literary long weekend in Seattle—replete with bookstores, writer-frequented watering holes, and the ghost of Alice B. Toklas. To top that off, we asked some of our favorite Seattle-area authors for their favorite places to eat, drink, and visit in the Emerald City. There's more here than can probably be accomplished in 72 hours, but it wouldn't hurt to try!
*
The Laughter) recommends:
EAT: Karachi Cowboys, 1517 12th Avenue #100
Pakistani/Indian soul food meets Texas BBQ in this pop-up on Capitol Hill. Chef Nasir Zubair serves up the mouthwatering tastes of his father's Pakistani home cooking and his African American maternal grandparents' Sunday cuisine. I recommend the Aaloo Slider as a snack, the Kheema or Kofta for dinner, and the Sevaya Kheer for dessert.
DRINK: Taste of India, 5517 Roosevelt Way NE
You can't go wrong with just about any coffee shop in Seattle, but if you're like me, surely you're craving a good cup of afternoon tea? And surely your favorite kind of tea is Indian masala chai? Head to Taste of India on Roosevelt Avenue, where they will give you endless chai refills to go with your samosa and pakora or anything at all. And when I say endless, I mean you will have to beg them to stop plying your cup with that delicious stuff.
VISIT: Columbia City and Queen Anne neighborhoods
Go walk around one of Seattle's distinct neighborhoods. I describe some of them in detail in my new novel, The Laughter. Walk around Columbia City in South Seattle or catch the spectacular view of Mount Rainier and the downtown sweep from Kerry Park up on Queen Anne Hill. Both neighborhoods also have some excellent cafes, bakeries, restaurants, and more. One of these neighborhoods is far more diverse than the other. So, you know, a complete Seattle experience if you wander through both.
Monsters) recommends:
EAT: Mamnoon, 1508 Melrose Ave
Easily walkable from the mothership of the Convention Center, Mamnoon is a chic, velvety hideout serving delicious Middle Eastern cuisine. Fresh-baked breads elevate sandwiches that can be picked up at the restaurant's walk-up window, or settle into the dining room for a meal of mezzes and beautifully cooked mains.
READ: Left Bank Books, 92 Pike St
I don't drink so I'm going to go off-piste and suggest a bookstore instead of a bar. An absolute don't-miss is Left Bank Books in Pike Place Market, an anarchist collective that's been in business for 50 years and connects readers to Seattle's radical past. Left Bank, with its warren of rooms packed with books and zines and poetry, makes a bracing corrective to the tech bro sheen that overlays Seattle.
VISIT: Woodland Park Zoo, 5500 Phinney Ave N
If I had my way, every visitor to Seattle would be bused to the Woodland Park Zoo to see Juniper and Fern, two recently rescued female grizzly cubs. (Among enthusiasts they are know as Ferniper, a la Bennifer.) The bears tumble around their habitat, playing, swimming, wrestling, and generally being adorable BFFs. If I had to tell you how much joy they bring me or how often I visit the zoo just to see them, I'd probably drop dead of embarrassment.
Miss Cafe, 1523 1st Avenue

This little Turkish restaurant is my favorite place to have lunch when I'm down by Pike Place Market. Everything I've tried on their menu is good, but their specialty is pide: boat-shaped flatbread pizzas topped with various combinations of beef, chicken, and lamb. (A vegetarian version with potato and mushroom is also available.)
DRINK: General Porpoise, 2111 7th Avenue (inside the Amazon Spheres)
You can get coffee in a million different places in Seattle, but if you want to drink it while sitting in a tropical rainforest, this is your spot. A massive greenhouse formed from three intersecting glass domes, the Spheres contain over 40,000 plants, including dozens of trees and a "corpse flower" named Morticia. The Spheres are open to the public on the first and third Saturdays of every month; reservations are required, and because of the Spheres' popularity, you'll want to book as far in advance as possible.
VISIT: Archie McPhee, 1300 N 45th Street
Established in 1983, this venerable novelty shop in Seattle's Wallingford neighborhood offers such treasures as glow-in-the-dark rubber chickens, bacon-flavored candy canes, and inflatable unicorn horns for cats. If you're traveling with kids—or if, like me, you still are one—it's worth the short bus ride from downtown to visit.
Tai Tung, 659 S King St (The Rex Apartments)
Tai Tung is Seattle's oldest Chinese restaurant—it was Bruce Lee's regular spot and has become a historical local hangout. I came here for the first time with my doctoral advisor Shawn Wong, a pioneer of Asian American literature, who edited alongside Jeffrey Chan, Frank Chin, and Lawson Inada, 
Aiiieeeee! An Anthology of Asian American Writers
. This was the place my thoughts on my research came together, after six years, and I'm so grateful that it began with a delicious meal.
DRINK: Olympia Coffee, 3840 California Ave SW
Olympia Coffee in West Seattle is where I go most days to write, read, and sip on a cappuccino or cortado. It's impossibly small, the seats are uncomfortable, and the coffee is world class. I don't know how to describe a better place for me. I owe many poems and chapters to this place, and I'm moved by all the times my drink was replaced with a new one, without a word. I have a deep gratitude for everyone at Olympia for their kindness and warmth throughout the years.
VISIT: Alki Beach, 2665 Alki Ave SW
Before I moved to West Seattle, I walked along Alki Beach and cried because I so wanted the joy that I imagined was still possible for me. Alki Beach appears in every one of my works because of the hope it gave me at the time. Since then, friends and family have moved here, and you can see why once you face the water and the strip of skyscrapers, the ringing bike rentals, the fresh gravel along the path, the paper signs and copper plates, string lights decorating the hubs, the silence and ease, and the birds sailing into their fullest wingspan.
Taurus Ox, 903 19th Ave E
This neighborhood Laotian eatery, tucked away on a quiet street away from tourist spots, is worth a cab ride—or even a walk over our famous hills! A plate of traditional Lao sausage and sticky rice will never do you wrong, but my God, their spin on the cheeseburger is transcendent. It's the kind of meal that sticks to your ribs, and in your memory.
DRINK: Canon, 928 12th Ave
Look, if you're in Seattle already, you have to be prepared: our cocktail bars are pricey. I'm hoping other recommendations can guide you to more affordable, divier options because my advice is to just embrace the hit to your wallet and drink a $22 concoction out of an NES cartridge instead. Canon has a wide selection of spirits if you want to get right to the point, but it's the more inventive side of their menu that's the real draw here: they serve drinks in all sorts of creative glassware filled with smoke, herbs, and flower petals. It's an experience. And isn't that what we're all paying for in the end?
VISIT: Seward Park, 5900 Lake Washington Blvd S
If you're coming all the way out to Seattle, you might want to feel like you're really in the sort of Pacific Northwest landscapes you've seen on screen. The only problem: you don't have time to schlep out to Forks with the Twihards or to North Bend with the Twin Peaks fans. Go take a walk in Seward Park, one of the last places in the city itself where you can still find old-growth trees. With the right picture, you can make your friends back home believe you've taken an epic day-long hike through the forest when, in fact, you've just gone on a half-hour stroll before hitting up the nearby outpost of Third Place Books.
Courtesy of Ba Bar
Kristen Millares Young (Subduction) recommends:
EAT: Ba Bar Capitol Hill, 550 12th Ave
How shall I put this? Mask up, folks. Too many writers took COVID home from the 2022 AWP in Philadelphia. My favorite Capitol Hill restaurant with a heated outdoor patio is Ba Bar, a Vietnamese street food restaurant where the vibe is right, and so are the cocktails. Bonus: macarons! The 20-minute walk from the Convention Center takes you right by the Frye Art Museum, which is free. Ba Bar's pho is on point; happy hour goes from 2-5 and 9 to midnight.
DRINK: Empire Espresso, 3829 S Edmunds St
But! Come on down to the south end, out-of-town friends. 98118 is one of the most diverse zip codes in the country. I wrote much of my first novel Subduction at Columbia City's Empire Espresso, which serves excellent coffee (pour overs!), buttery waffles, and even their own cashew milk, as well as a coconut and chia seed pudding with granola and berries that together can tide you over for several writing hours. When you get restless, check out their outstanding selection of vinyl records for sale upstairs, which also features comfy seating, arcade games, and a rooftop patio for sunny days. Try light rail to get to Empire Espresso, just a few blocks from the Columbia City station.
DRINK: Flying Lion Brewery, 5041 Rainier Ave S
On that note, if you took light rail to Columbia City and you're in the mood for beer, Flying Lion Brewery has an excellent selection of their own brews. I have been favoring the Prickly Pear Sour of late. Bring your own food or takeout to their heated and covered outdoor deck. Parent-writers of AWP, there is an ice cream joint next door called Full Tilt, which has serious arcade games and pinball machines. The servers at Flying Lion are super friendly, and you don't have to tip them. This brewery pays their employees a living wage. Imagine that!
Courtesy of Seattle Parks
EAT: Café Arta, 6504 20th Ave NE
If you love bookstore cafes, you simply can't miss Café Arta. Located inside Third Place Books Ravenna, their Greek food is delicious—and make sure you stop by the old-school, wood-paneled bar in the basement.
DRINK: Jupiter, 2126 2nd Ave
My favorite dive in Seattle is walkable from the convention center, in the hopping downtown neighborhood of Belltown. This place is super funky, dark and dank and covered in pinball machines and arcade games. This is a perfect spot for late-night snacks and a proper party vibe.
VISIT: Golden Gardens Park, 8498 Seaview Pl NW
Best visited on a clear day (good luck with that), this beach will give you a proper taste of nature-loving Seattle. With an incredible view of the Olympic Peninsula and a very good chance at spotting some cute barking seals, this park is one of my favorite gems in the city. It's particularly special at sunset!
EAT: Mamnoon, 1508 Melrose Ave
Mamnoon is my absolute favorite place to eat and to share a meal with people I love. The place emanates warmth and orange blossoms and captures everything I miss most about the Arab cities that raised me: joyous energy, fragrant and delectable dishes that are pleasing to the palate and the eye, constantly re-invented classics, and the music of people passing plates across a table, soaking up the pleasures of good food and company. Whatever else you get, make sure to order the fattoush, and save room for dessert!
DRINK: Café Ladro, 801 Pine St
Café Ladro has consistently provided excellent fair trade organic coffee for over 20 years, and I like the writer-friendly energy of their stores—inviting but not too busy to hear your own thoughts. I'm a dedicated fan of their perfect flat white.
VISIT: Open Books: A Poem Emporium, 108 Cherry Street
I fell in love with this poetry-only bookstore at its old location, and that love has only deepened at the new store, which opened last spring on Cherry Street. It has it all: new releases, hard-to-find gems, unique chapbooks, anthologies, and more, all elegantly and lovingly curated by poet-owner Billie Swift. It even has its own parlor that you can rent out to write or host a book signing or dream up your next poetry project.
Deep Sea Sugar and Salt Cakeshop, 6601 Carleton Ave S
This place is a little out of the way, but since it promises the best cake you'll ever eat, the drive is worth it. Deep Sea Sugar and Salt is tucked away in a modest green converted house on a mostly residential street in Seattle's Georgetown neighborhood, but you can't miss the line of eager customers waiting for their cake shop slices. Flavors change monthly, and March includes chocolate malted milk, vanilla bean custard, classic birthday cake (with rainbow sprinkles!), and—my favorite—the lemon cream (think tart lemon curd and pillowy lemon mascarpone cream), as well as several others. (Tip: Order online ahead of time to guarantee your slice, since they frequently sell out, then pick up later.) A truly perfect Seattle afternoon is a slice of lemon cream and a cup of coffee, enjoyed from a driftwood perch on any one of our gray and moody beaches.
VISIT: The Hiram M. Chittenden-Ballard Locks, 3015 NW 54th St
No trip to Seattle is complete without some time on the water, so take a car across town to the quintessential (and free!) Seattle experience, the Ballard Locks. The locks allow boats to pass between Seattle's major freshwater lakes—Lake Union and Lake Washington—and Puget Sound. Watching the locks open and close and the water level rise and fall is to witness a bit of engineering magic. The park around the locks (the Carl S. English Jr. Botanical Garden)—a rhododendron dream on a hillside overlooking the water—makes for a charming walk too, and you can stop in at the visitor center for a little more context on Seattle history and ecology. Best of all is the underground viewing room of the fish ladder. You won't see salmon in the spring, but the cave-like quiet of the place and the massive glass windows looking into the jade water are eerie and beautiful. And once you're here, Ballard is full of bars and cafes to check out.
DRINK: Little Oddfellows Café and Bar, 1525 10th Ave (inside Elliott Bay Books)
Not far from the Convention Center and just a block from Seattle's Hugo House is a spot to get a good cup of coffee inside a bookstore. Wander the wide wood-plank floors of Elliott Bay Books, and then take your finds to one of the café's quiet tables. The light is good for writing, and it smells like heaven here (by which I mean like books and coffee). And if you're looking for a full meal or a cocktail (or a Rainier tall boy), the original Oddfellows is right next door. Either place is a pleasant spot with good food and good drinks—and you won't have to fight the cross-town traffic to get there.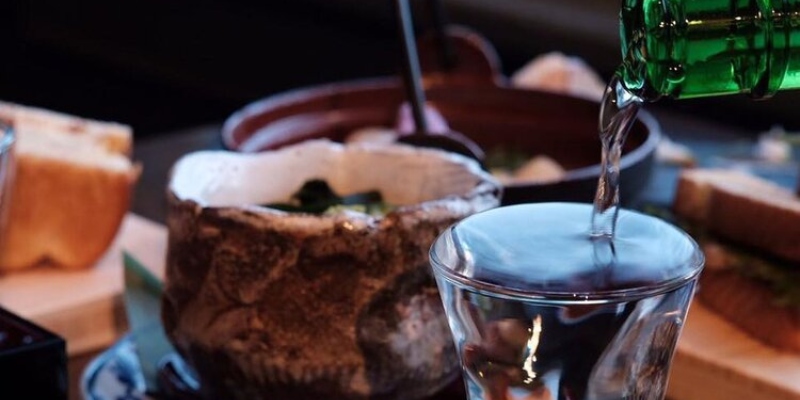 Courtesy of Hannyatou
EAT: Le Pichet, 1933 First Avenue
Le Pichet is the quintessential French bistro of Seattle for me, and it's a short walk from the Convention Center. I love their charcuterie selection, and their Lyon-style onion soup is great for a winter night. The place is not huge and can get crowded at times, but it never loses the vibe of a neighborhood hangout where you can chat for hours about books and movies over wine and cheese. They have a rotating dessert menu, but my favorite way to end the night is to split a cup of chocolat chaud with a friend.
DRINK: Hannyatou, 1060 N 39th Street
An intimate Japanese bar featuring an impressive list of sake, Hannyatou is worth a hike to its quiet corner of Fremont. I often start by sampling a flight of sake produced from different regions of Japan (or America!) and end up bringing a few bottles of junmai daiginjō or namazake home. Their bar snacks are never an afterthought: I recommend the aged cheddar marinated in sake kasu, smoked clam dip, fried pork chop sandwich, and raw octopus in wasabi. Chef Mutsoko Soma also runs Kamonegi two doors up, where she serves up dreamy soba noodles.
VISIT: The Ballard Avenue Historic District, Ballard Avenue NW between NW Market Street and NW Dock Place
The district is a half-mile stretch that runs along the Salmon Bay, and you can still see remnants of old Ballard, settled in the mid-1800s by the Nordic immigrants, in the red-brick buildings that dot the street. Boutiques, thrift shops, cafes, restaurants, and bars line the avenue, with plenty of outdoor seating since the pandemic. Though most of the sailor-frequented bars are long gone, I have a soft spot for Hattie's Hat, one of the old holdouts for a drink and a quick bite. Oyster and seafood lovers looking for fine-casual dining may want to wait for a table at The Walrus and the Carpenter.
Dear Memphis) recommends:
EAT: Japanese cuisine, N 45th Street in Wallingford
Take the bus north of Lake Union to 45th Street in Wallingford, where you'll find novelties like Archie McPhee's joke shop and Sock Monster interspersed with family-owned restaurants. There are at least five different Japanese cuisines, poke at Stop and Shop, sushi at cash-only Musashi's, Silver Tray Thai, Trinidadian channa roti at Pam's Kitchen, and so many more. If I had to choose just one, I'd go for the hand-pulled lamen and seasonal dumplings at Dumpling the Noodle.
DRINK: General Porpoise, 401 1st Ave South and 1020 E Union St
I am not generally a donut lover, but I am always up for a trip to General Porpoise. Their light yet chewy dough encases "always" fillings like lemon curd (my favorite) and chocolate marshmallow, as well as seasonal spreads like strawberry and churro cream. Devour with friends alongside a perfect cup of Stamp Act coffee.
VISIT: Wing Luke Museum, 719 S King St
When you walk in to the Wing Luke Museum, you'll sense generations of care for Asian American and Pacific Islander history and culture. The museum's ethos draws on deep local roots, often highlighting family artifacts as emblems of an era. There's so much texture, I can get lost in any single room; their many exhibits include art as immigration sanctuary, Black-Brown intersections, and Japanese American resistance against incarceration. Plan some extra time for eating and shopping in the ID.
Ma and Me) recommends:
EAT: Ba Bar, 550 12th Ave
Seattle is a soup town—noodle soup specifically—with options that celebrate the deeply varied cultures across Asia and Southeast Asia. From hand-pulled biangbiang noodles and oxtail pho to shio ramen and khao soi, we've got it all. There's one beautiful bowl I keep going back to: the Mì Vịt Tiềm at Ba Bar. It's a perfectly composed bowl, with springy noodles relaxing in a layered broth, topped with a decadent leg of five-spice flecked duck confit that falls off the bone. While you're at it, might as well order the aggressively addictive chicken wings, grilled eggplant, and spinach tofu paper wrap.
DRINK: Zig Zag Café, 1501 Western Ave
As a journalist in my twenties, Zig Zag was the place where my colleagues and I convened post-deadline for the best cocktails and sit-back-and-settle-in vibe that moderated our urgent moods. As an author in my forties, this remains my top spot to meet friends for delicious drinks and equally toothsome bites. As an Asian American, in these dual decades of being an abiding customer, I've always felt graciously welcomed and consistently well-served. These cocktails and mocktails have their own stories, spoken in the mix and mingle of a coupe's contents and shaken or stirred by Zig Zag's exceptionally talented bartenders.
VISIT: The pocket parks of Eastlake
Six miles of trail around Lake Union include two obvious spots to stop and take in quintessential Seattle scenes of sailboats cutting across water as sea planes take off from a middle lane: the Museum of History and Industry on south Lake Union or Gasworks Park. But for an afternoon adventure that will calm and inspire your soul, head to Eastlake, where there's a special joy in hunting for little hideaways that are part of the lake's collection of 30-plus uniquely charming pocket parks necklaced together by bits of trail and lightly trafficked roadway.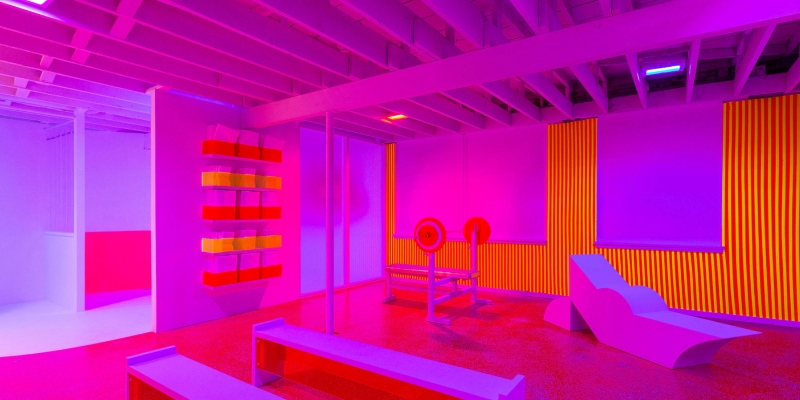 Courtesy of the Museum of Museums
Paul Hlava Ceballos (banana [ ]) recommends:
EAT: Garzón Latinx Street Food
This little walk-up window in the Black Cat Bar is the perfect spot for a quick, savory meal, especially if you're at an offsite event at Common Area Maintenance (CAM) or elsewhere in Belltown. Try the llapingachos—cheesy fried potatoes with peanut sauce—for a taste of the Ecuadorian highlands (and a personal favorite). The head chef, José Garzón, is an Ecuadorian American (and from the band MxPx?!) and catered my book launch with fried plantains and esquites.
DRINK: ZigZag Cafe, 1501 Western Ave
Treat yourself to a fancy cocktail. Tucked away below Pike Place Market, this place feels like a secret. As a fan of dark rum, I enjoy the Petty Larceny, but anything you order will be good. If you're feeling bold, give the waiter a flavor and trust the bartender to make you something special.
VISIT: Museum of Museums, 900 Boylston Ave
I love this museum because it supports local artists and feels unpretentious and fun. Plus, it's small enough that you can spend time with the artwork without feeling overwhelmed. Check out Soft Touch, an exhibit where you can touch the art, or Gum Baby, a curated world by Tariqa Waters. And when you finish, go down the street to party in Capitol Hill.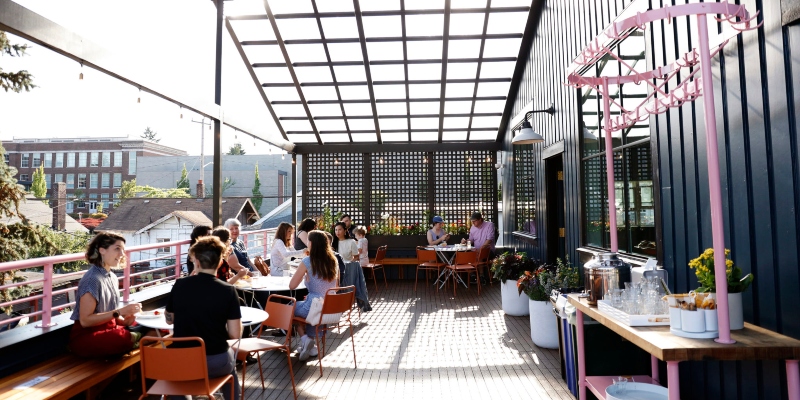 Courtesy of Café Flora
Mattilda Bernstein Sycamore (The Freezer Door) recommends:
EAT: Café Flora, 2901 E Madison St
I've barely eaten in any restaurants since this pandemic began, just a handful of times over the past three years, but a few months ago a friend was visiting and on an impulse we walked over to Café Flora because I'd heard they have an outdoor area and it turns out they built this huge outdoor space in the back with high ceilings and beautiful lighting and walls on three sides but the front is totally open so you can sit with a tree. Inside the restaurant it was crowded but outside there was no one but us, sure it was 40 degrees out but they have heat lamps up above and we just kept our coats on and it was totally comfortable and is it strange that I haven't mentioned the food, maybe because having this elegant outdoor area to ourselves felt more momentous in these pandemic times and yes the food was delicious, everything so precise how the farro in the warm kale salad could be so chewy and oh, that orange in the dressing, yes it's a vegetarian restaurant and you can order most things vegan, that's what we did, we split the risotto so creamy and savory with alternating chewy and crunchy things, a mushroom or a leek and the polenta with a rich pesto to set off the turmeric and don't let me forget that delicately roasted cauliflower and then there was a mystery ingredient so filled with flavor that neither of us could figure it out, oh, a date, that's what it was, and before that I didn't even realize I liked dates.
VISIT: Volunteer Park, 1247 15th Ave E
Volunteer Park is my favorite place in Seattle, it was my favorite place before this pandemic and it's my favorite place now too because of the trees, yes, after 11 years in Seattle I'm still not so sure about the people, but the trees, they are going strong. And there are so many beauties in Volunteer Park—giant sequoias with bark that feels like cork, cedars that stretch out like boats, a holly tree with two dozen trunks. Yes there's that postcard view of the Space Needle through the Noguchi sculpture too, but really it's all about the trees—and also Chloë Bass's Soft Services art installation, be sure to read the inscriptions on the 14 boulders scattered throughout the park that evoke history and desire and loss among the rocks that were already there and of course this is the gay cruising park too so if you need some tips on that then just let me know.
Ballast) recommends:
EAT: Delite Bakery, 2701 15th Ave S
Walking to Delite with my family to get an apple fritter the size of my eight-year-old head was the peak of my childhood. The fact that I can still go get an apple fritter the size of my now very old head is tremendous. So many things have changed in my lifetime in Seattle, most of them not for the better. But the donuts, ube bread, ube cake, and a thousand other, dare I say, delights (that actual human beings can still afford) at this lovely Beacon Hill spot is one of the very excellent things about Seattle.
DRINK: The Fireside Room at Hotel Sorrento, 900 Madison St
One of my favorite places in the entire city. It's got a giant fireplace. It has leather couches and chairs with absurdly high backs. It's a quiet, softly lit room ensconced in beautiful wood paneling. It has delicious drinks and good food. It's haunted by Alice B. Toklas. What more does a writer need?
VISIT: Open Books: A Poem Emporium, 108 Cherry Street
There are only a handful of poetry-only bookstores in the world and one of them, mercifully, is here in Seattle. It's run by poet Billie Swift and it is a lovely, wonderful, perfect place. It's a huge part of the literary history and fabric of Seattle, and also has played (and continues to play) a gigantic role in shaping me as a writer. When I was a baby poet, one of the previous owners (John Marshall) was kind enough to put my (terrible) chapbook on the shelf and to encourage me to keep writing. It's a generous, welcoming, kind space full of incredible books of poetry. An actual dream.
Virga

) recommends:

EAT: Rabbit Box, 94 Pike St
Located next to Left Bank Books in Pike Place Market, The Rabbit Box is named after playwright and poet Joseph Pintauro's book The Rabbit Box. Though known primarily as an underground performance venue that offers literary talks, live music, and dinner theater, The Rabbit Box offers a bar and full menu featuring local oysters, Korean pinch buns (a deconstructed bao), small plates, and dinner entrees. After having dinner, stroll through the empty cobblestone streets of Pike Place Market for night photography and walk down to Victor Steinbrueck Park to see Tree of Life, a public art piece and memorial to Seattle's homeless.

DRINK: The Panama Hotel and Tea House, 605 South Main St
The Panama Hotel was immortalized by novelist Jamie Ford's in his first book Hotel on the Corner of Bitter and Sweet. A tea room is located next to the historic hotel and offers handmade Japanese sweets from Tokara, an extensive collection of herbal and imported teas, plus a bar with wine and liquor. Seattle sound artist Paul Kikuchi installed his project "Songs from Nihonmachi" in the main room. The listening station is made up of a vintage califone record player and an antique record collection. It's placed right next to the light well, where visitors can gaze down into the basement which houses an old bathhouse, along with items left behind by families who were relocated during the period of Japanese American incarceration.

VISIT: UPS Waterfall Garden Park, 219 2nd Ave S
Once upon a time, I worked across the street from the UPS Waterfall Garden in the Masin Building which houses Pilchuk's offices and a small glass arts gallery. I'd eat my lunch in the garden, away from thoroughfare and buzz of Pioneer Square, in this quiet garden oasis. Created in 1978 by landscape designer Masao Kinoshita and garden designer Yoshikuni Araki, the garden takes its inspiration from traditional Japanese gardens which focus on elements of stone, water, and plantings. The jewel of this beautiful garden is the manmade waterfall which is turned on and off at the start and end of each day.
The Cassandra) recommends:
EAT: Thai Tom, 4543 University Way NE
That last time I was at a big literary event in Seattle, I ghosted the festivities so my husband and I could dine at this hole-in-the-wall Thai restaurant that's as affordable as it is beloved. This was a place I ate at weekly when I went to the University of Washington. Thai Tom's revered original chef and owner, Tom Suanpirintra, died in 2021, but the footprint of the original restaurant remains. Go there and feast on a plate of panang curry or swimming rama, then hit up the University Bookstore (where I used to be a bookseller) and the Henry Art Gallery. The Henry recently had a show featuring Nina Chanel Abney (!!!). This trio—food, books, art—makes for a perfect day in the Seattle U District, and you can even go check out the beautiful UW campus while you're at it.
DRINK: Macrina (2408 First Ave) and Geraldine's (4872 Rainier Ave S)
My ass is sober for nigh on a decade now but drinking [caffeine] in Seattle remains a big priority for me. Wow is there such great coffee in this town. Once upon a time I worked at Macrina, which has super yum breads, foods, and espresso, or why not spend the whole morning drinking coffee with friends and eating breakfast at an amazing spot like Geraldine's in the Columbia City neighborhood? Super. Duper. Yum.
VISIT: Seattle Public Library, 1000 Fourth Ave
I've worked in indie bookstores and public libraries for half of my life now, and locations like Elliott Bay Book Company, Third Place Books, and the Seattle Public Library are mainstays of any literary tour of the city. There are great SPL branches around town but don't miss the striking glass and steel architecture of the flagship library downtown. And be sure to show kindness to all front desk library staffers—they need and deserve the love!
Hello Em Viet Coffee and Roastery, 1227 S Weller St
Located in the Little Saigon neighborhood, Hello Em shares its airy, modern space with the neighborhood redevelopment agency Friends of Little Saigon. The café offers excellent traditional coffee drinks and hot and cold house specialties. Some of their coffee is sourced from Vietnam and roasted on site. They also serve Báhn Mì sandwiches including a yummy breakfast version. They have a great pastry selection including matcha and durian cake rolls. The space also hosts an exhibit gallery and a carefully curated lending library with books and media that center the Vietnamese American Experience.
Humble Pie, 525 Rainier Ave S
If you arrive at Hello Em in the late-ish afternoon and are in want of a more substantial bite, walk east on Weller and you'll soon be in front of Humble Pie, a low-key pizza place with a focused menu of wood-fired pizzas. They source local ingredients including herbs grown on site. This is a good place to have a long conversation. There is plenty of outdoor seating (heat lamps available). Kick it with a beer or glass of wine and say hi to the hens in the adjacent coop.
Phở Bắc Sup Shop, 1240 Jackson St
Pho Bac is also located in Little Saigon and has some of the best Pho in the city (and that's saying something). This place has a great vibe and equally great house cocktails; excellent appetizers too. Their turkey wings with tamarind sauce are an experience. Also, their mint lemonade. 
• First Hill •
Frye Museum, 704 Terry Avenue
The Frye museum is one of my favorite places to visit in Seattle. This is a small, exquisite space, with a pleasant café where one can catch a bit of respite from the city's daily bustle. One of the things I enjoy about the museum is the range of exhibits they host. Right now, Seattle-based artist Molly Jae Vaughan has a huge piece on display at street level (on Boren). From the museum's website: Vaughan's "work addresses representations of transgender people, including the erasure and violence they experience." Museum admission is always free.
• Bell Town •
Centennial Park, 211 Alaska Way
This narrow waterfront park is a short walk south of the Seattle Art Museum's sculpture garden. Walk along Puget Sound's shoreline along a flat path, with gentle licks of sea spray, the ocean's lull, and excellent views of Elliott Bay and the Olympic Mountains. The park offers a sense of maritime Seattle—think seal sightings—with working ships always stationed nearby.
• Pioneer Square •
EAT: ʔálʔal Café, 122 2nd Ave S
A short skip from Open Books is the newly opened ʔálʔal Café. In addition to excellent coffee beverages the café offers a simple menu of heartly dishes made with Indigenous ingredients from across North America. I had an excellent rabbit stew with corn and squash the other day. The space is beautifully designed and welcoming. ʔálʔal means "Home" in Lushootseed, the language spoken by the Duwamish and other Native peoples of the Salish Sea.
• West Seattle •

VISIT: The Duwamish Longhouse, 4705 W Marginal Way SW
If you have more time, you can cross the bridge that separates downtown from the peninsula that is West Seattle and visit the Duwamish Longhouse. The Duwamish tribe are the original inhabitants of what is now Seattle. The Longhouse is a beautiful space and houses a small museum and gift shop. Across the street from the Longhouse is a lovely park with historical markers where you can take in what remains of the Duwamish River as it enters what is now called Elliott Bay.
Editor's note: Check out The Seattle Poetic Grid, created by Claudia as Seattle's inaugural Civic Poet (2015–18).
Add Comment