Literary Hub is pleased to reveal the cover for Pulitzer Prize finalist Daniel Mason's North Woods, "a sweeping novel about a single house in the woods of New England, told through the lives of those who inhabit it across the centuries," which will be published by Random House in September.
Here's a bit more about the book from the publisher:
When a pair of young lovers abscond from a Puritan colony, little do they know that their humble cabin in the woods will become home to an extraordinary succession of inhabitants. An English soldier, destined for glory, abandons the battlefields of the New World to devote himself to apples. A pair of spinster twins survive war and famine, only to succumb to envy and desire. A crime reporter unearths a mass grave, but finds the ancient trees refuse to give up their secrets. A lovelorn painter, a conman, a stalking panther, a lusty beetle: as each one confronts the mysteries of the north woods, they come to realize that the dark, raucous, beautiful past is very much alive.
Traversing cycles of history, nature, and even literature, North Woods shows the myriad, magical ways in which were connected to our environment and to one another, across time, language and space. Written along with the seasons and divided into the twelve months of the year, it is an unforgettable novel about secrets and fates that asks the timeless question: how do we live on, even after were gone?
And here's the cover, which was designed by Anna Kochman: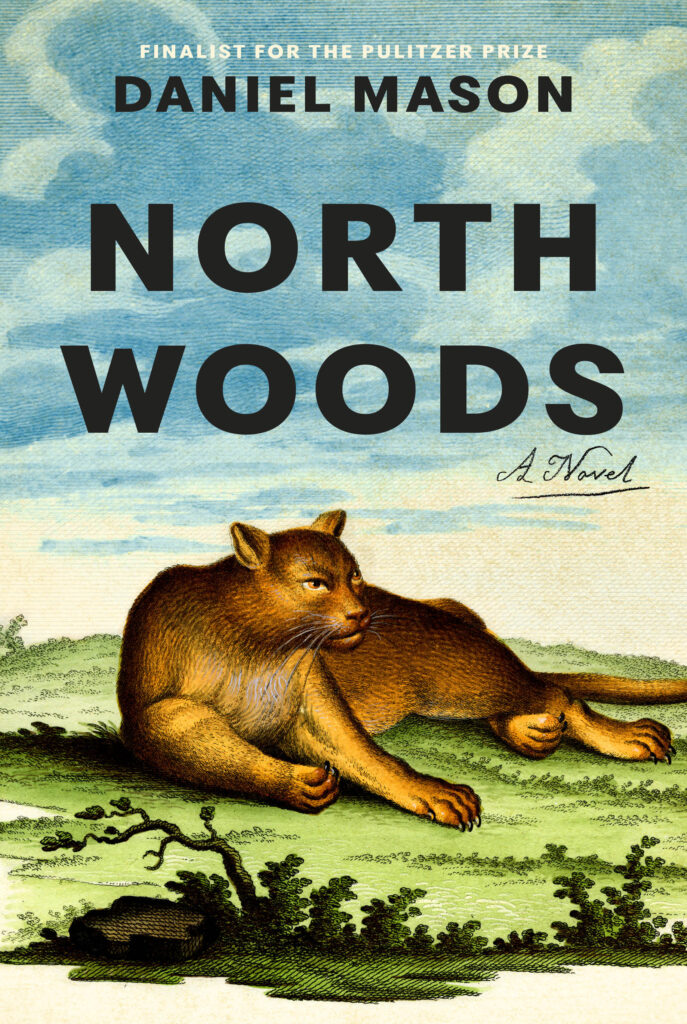 "There was so much imagery to be inspired by in this book, it was hard to zero in one thing!" designer Anna Kochman told Lit Hub. "Originally this illustration was part of a panel design, using a few different images, but it was the one that seemed to call to everyone. I think the style of illustration and the amazing expression in the eyes of the catamount really suit the tone of the book, and when we let it stand alone it felt right."
"The idea for North Woods came to me during an autumn in New England, where I was very much inspired by the textures and history of its woods," Mason added.
Anna's different covers captured this world from her very first drafts. There were gorgeous Hudson River scenes, strangely gothic colonial portraits, whimsical old owls, scarcely-clad (and not-clad-at-all) torsos, knotted trees, a whirling collage of neon axes, a tumble of of apples, and a near-favorite, a gritty old print of Adam and Eve in Eden, in the colors of all old television on the fritz. Anna had even managed to capture the sense of the storys evolution over time and across the seasons during which it was written. And yet very early the image of a catamount stood out. There was something to the covers panther that was evocative of the creature who roams the book: its beauty and danger, and evenhow to put this?a kind of bemused, wise confidence. It is hard to know whether it is about to wreak havoc, or stretch out for a nap.
My favorite covers are ones that both catch the eye, but also reveal more of themselves on closer inspection. Anna's catamount was one that I return to; Ive come to love its strange gaze, the imperfect, slightly awkward rendering of one of its legs, and the vegetation beneath it that suggests, in its strange forms, an entire forest, as if it looms over both the woods she once haunted, and the story that follows.
North Woods will be published by Random House on September 19, 2023. You can preorder it here.