How funny to curate a list about Boston when I never really considered it my home—possibly not until my new novel, The Lioness of Boston. I moved a lot as a kid—house to apartment, town to city, out of the country, back in, out again, until I finally moved back to the US and my now husband and I decided, like the Mallards in Robert McCloskey's Make Way for Ducklings, that Boston seemed liked a good place to raise a family.
I have four (humans, not ducks) and, while I've have tried to show them different parts of the world and they are one by one flying off to explore, I hope they come back to Boston.
As a city, Boston is at turns cobblestones historic, steel and glass new, proudly academic, and deeply ashamed—and rightly so—of its past (I'm looking at you, busing crisis, long-lasting red line discrimination, and continuing issues of racism). There are the institutions—Harvard, MIT, Dana Farber Cancer Institute, Mass General Brigham Hospital, and then there are the museums.
In March 1990 I when I was a senior in high school, my art history class took a field trip to Boston's Isabella Stewart Gardner Museum—a stunning Venetian palace I'd thought was magic when I'd visited with my father. I marveled at the courtyard with its bright orchids and clusters of calla lilies. In the cavernous Dutch room, the weighty artwork drew me in and I wrote a paper about Storm in the Sea of Galilee and The Concert.
A week later, those paintings were cut from their frames, stolen in one of the largest art heists in history. And yet—due to Isabella's directives, nothing could be moved or changed. This only added to the museum's magic and mystique. People might know about the infamous Gardner art heist (and the Netflix series about it), but who was the woman who built this unusual place? I was drawn to Isabella Stewart Gardner not only because of her stunning and lasting contribution to Boston, but because she was a feminist before feminism. A woman who did not fit into her societal role—the perfect subject for a novel.
So I wrote The Lioness of Boston.
In researching my novel and Isabella Stewart Gardner's life, I had to dive deep into the history of the city she tried to love, was rejected from, and finally made her home. The Isabella Stewart Gardner Museum was built in a barren swampland, much to the chagrin and early eye-rolling of the Brahmin society that shunned her.
My hope is that readers will experience The Lioness of Boston and come to understand Isabella's story of reinvention: after early rejection and tragedy, Isabella might have cloistered herself away in her lovely Boston home. Instead she explored the greater world—infiltrating the male-dominated Harvard intellectual world, collecting art, and finding friends in other misfits, and her place in the larger world.
Isabella was a prolific collector of books, letters, art, and people, including intellectual and authors. The following titles are some of the books or authors featured in The Lioness of Boston and part of Isabella Stewart Gardner's life.
 *
Nathaniel Hawthorne, The Scarlet Letter
Isabella Stewart Gardner began collecting first with rare books. One of these is a prized first edition. Perhaps she felt a kinship with the idea of being a woman scorned. This book resides in the Isabella Stewart Garner Museum alongside a lock of Nathaniel Hawthorne's hair.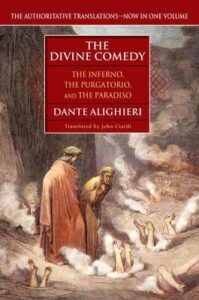 Dante Alighieri, The Divine Comedy
One of Isabella's most important connections in her life was to Charles Eliot Norton, who became the first art history professor at Harvard and who translated Dante and founded The Dante Society of America in 1881 with Henry Wadsworth Longfellow and James Russell Lowell. Isabella collected rare editions of The Divine Comedy, including a gorgeous colorful version from 1487. Charles Eliot Norton invited Isabella Stewart Gardner into the Dante Society, sparking her quest for meaning in her daily intellectual life.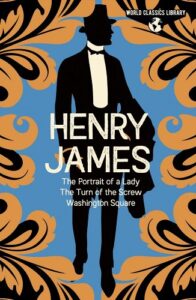 Henry James, The Turn of the Screw
After being introduce through Charles Eliot Norton, Henry James and Isabella Stewart Gardner became the closest of friends. They shared details of their lives, their love of art, and travel. They exchanged enough letters to fill an entire doorstop of a book (available still) and missives about his novels—often in progress. Isabella had a firsthand look into James's writing process from his first story in The Nation (which Norton co-founded) to his many novels.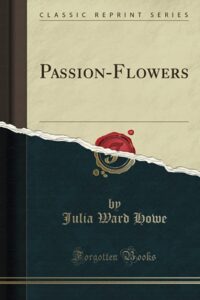 Julia Ward Howe, Passion Flowers
Famous for writing "Battle Hymn of the Republic," abolitionist and social reform advocate Julia Ward Howe was one of Isabella Stewart Gardner's neighbors in Boston's Back Bay. They became close friends. Passion Flowers was controversial due to the romantic and sexual undertones. This did not shake Julia, whose commitment to suffrage never faltered.
Bernard Berenson, The Drawings of the Florentine Painters
When Isabella Stewart Gardner first met Bernard Berenson, he was a Harvard student. He became the pre-eminent authority on Renaissance art and Isabella's art advisor as she built her European collection. Their relationship spanned many years and formed a social circle which included George Santayana. Berenson and Gardner's numerous letters, available as a book, detail her art acquisitions and their long-lasting friendship.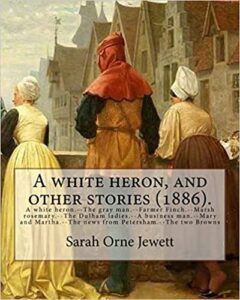 Sarah Orne Jewett, The Dulham Ladies
Isabella Stewart Gardner was a fan of New England author Sarah Orne Jewett, whose first story was published at 19 in The Atlantic before publishing novels. Gardners letter to Jewett as well as The White Heron and Other Stories and The Dulham Ladies are among Gardner's collection.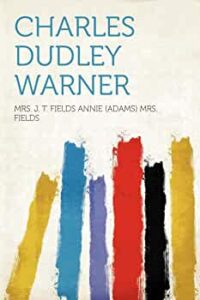 Annie Adams Fields, Charles Dudley Warner
Social reformer and author Annie Adams Fields and Sarah Orne Jewett had was often called "a Boston marriage," a term detailing the coupledom (often romantic, sometimes not) of two wealthy women choosing to live together. Fields inscribed a copy of this book for Gardner. Field, like Gardner, was painted by John Singer Sargent, one of Isabella's closest friends.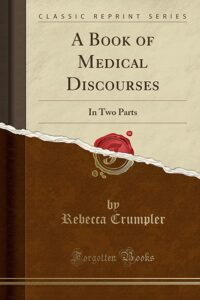 Dr. Rebecca Lee Crumpler, A Book of Medical Discourses
The first Black woman in the US to receive her MD, Dr. Crumpler's name ought to be known by all. In The Lioness of Boston, I decided to have Dr. Crumpler be instrumental in the delivery of Isabella Stewart Gardner's only child. Isabella often reflects on the Dr. Crumpler's advice which is passed on by the Irish midwife who aides in the delivery. While this was not necessarily historically factual, the medicine, and advice were. Much of the novel focuses on the breadth of history all happening at the same time, and I felt it was important to document some of the multifaceted progress in healthcare.
__________________________________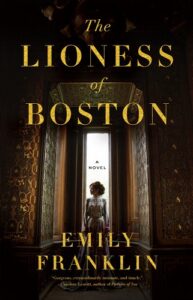 The Lioness of Boston by Emily Franklin is available from David R. Godine Publisher.