The Virginia Woolf
2 shots oaked amber rum
¾ shot peach syrup*
¾ shot fresh lemon juice
Garnish: mint
Add all ingredients to a shaker filled with ice and shake vigorously. Strain through a fine strainer into a Nick and Nora glass. Gently press mint with fingers to release oils, and garnish.
*Peach Syrup:
In a small, heavy-bottomed saucepan, simmer 2 small peaches (sliced into small pieces) and basic simple syrup for 5 minutes. Remove from heat, allow to cool, and strain.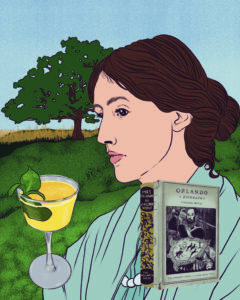 Literary modernism is, to many, synonymous with Virginia Woolf. The innovative prose stylist introduced the world to stream-of-consciousness fiction—and, simultaneously, argued for a space for women in the literary sphere.
Woolf's freedom to pursue literature came from financial independence, something unusual for women of her era and a topic she explored in her writing. She grew up in a privileged, well-educated family and attended King's College in London, where she befriended a number of high-profile feminists.
By the time she was 23, she was writing for the Times Literary Supplement and associating with the Bloomsbury Group, a circle of avant-garde artists and intellectuals who rebelled against Victorian society and rejected bourgeois ideals (including those of heteronormativity). In 1909, when she was 27, her aunt passed away and left her a significant inheritance—a windfall that gave her the freedom to write, unfettered. Twenty years later, as a celebrated author, she published an essay titled "A Room of One's Own," which explores how the confined social and financial roles of women dampened their ability to create, and, in particular, to write fiction.
Woolf's other famous works—mostly fiction—remain just as relevant. Mrs. Dalloway explores a single day in the life of a woman, probing the boundaries of one's inner world and the postwar social structure. To the Lighthouse centers on a family's summer home on the Isle of Skye in Scotland: it is a philosophical novel that uses omniscient narration to examine the complexity of experience and human relationships. And Orlando, inspired by Woolf's romance with the novelist Vita Sackville-West, features a protagonist who lives for centuries and switches from male to female midway through life. It's a book that feels particularly modern today, in an era when ideas of gender are being probed and upended.
The main character in Orlando spends nearly 300 years writing a poem titled "The Oak Tree," exploring both identity and literary history. The cocktail dedicated to Woolf finds its roots with an oaked rum and a clean, modern finish.
*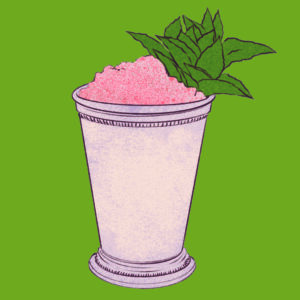 The Zora Neale Hurston
6 basil leaves
2 strawberries, sliced
¼ shot basic simple syrup*
2 shots bourbon
Garnish: basil sprig
In a Mint Julep cup, thoroughly muddle basil and strawberries with basic simple syrup. Pack glass with crushed ice and add bourbon. Stir, and top with more ice. Garnish and serve with a steel straw.
*Basic Simple Syrup:
In a small saucepan, bring ½ cup (120 ml) water and ½ cup (100 g) granulated sugar to a simmer, stirring until the sugar is dissolved. Add any flavorings and allow to cool. Any type of syrup can be stored in the fridge for up to 1 week in a clean, airtight container.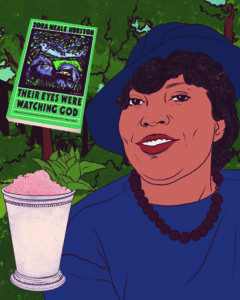 An unparalleled expert in the Black vernacular and ethnography, Zora Neale Hurston is one of the most recognized names of the Harlem Renaissance.
Hurston was born in Alabama but grew up in Eatonville, Florida, an all-Black township where her sense of self was bolstered by a culture where all positions of power and influence were held by Black people. She led a happy childhood until her mother died and, after feuding with her father's new wife, left home to work with a traveling Gilbert and Sullivan theater troupe. At age 26, she decided to finish high school, and subtracted 10 years from her age to do it for free.
Flourishing in academia, in college Hurston pursued research in ethnography and traveled to the American South, Jamaica, and Haiti to research local cultural practices. She followed that with graduate studies at Columbia University. While living in Harlem, she associated with Harlem Renaissance writers such as Langston Hughes, and turned her apartment into a favorite party location (though she sometimes wrote in her bedroom while guests reveled).
Hurston's major successes came from her mid-forties on. Her best-known novel, Their Eyes Were Watching God, was published in 1937; written in a well-crafted vernacular, it tells the story of a Southern Black woman's search for self through three marriages. An example of her nonfiction, Tell My Horse, published in 1938, explored voodoo in the Caribbean.
Still, she never received financial success to match her acclaim, and when she passed away she was buried in an unmarked grave in Florida. In 1973, Pulitzer Prize-winning novelist Alice Walker (now best known for The Color Purple) published an essay in Ms. Magazine in which she searched for Hurston's grave. The renewed interest in Hurston elevated Their Eyes Were Watching God into the literary canon.
The drink dedicated to Hurston is a spin on a Mint Julep—a Southern drink that, though many may not know it, was popularized by a Black bartender.
__________________________________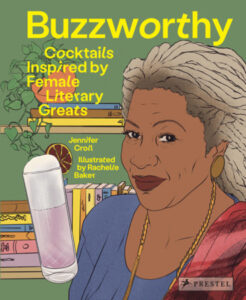 Excerpted from Buzzworthy: Cocktails Inspired by Female Literary Greats by Jennifer Croll, illustrated by Rachelle Baker. Copyright © 2023. Available from Prestel, a division of Penguin Random House, LLC.