Forty years ago, my not-yet-gentrified neighborhood in Brooklyn had one bookstore, Mostly Books. When the owner retired, it became a video store (RIP Cousins). Then it was derelict, then it was councilman's office, and now its (obviously) a real estate office. But in all those years, a neighborhood of a dozen square blocks and around seventy-five thousand people was without a bookstore.
Now, in the span of a few months, two indie bookstores are filling that void: the recently opened Taylor & Co. Books is run by local Andrew Colarusso, and in August, husband and wife former booksellers Davi Marra and Briana Parker will open Lofty Pigeon Books.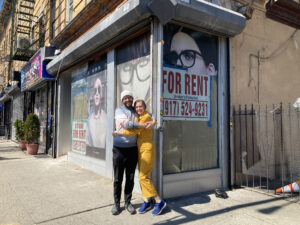 We spoke to Davi and Briana about their plans for the bookstore:
Why are you guys building a bookstore?
Davi: Theres been no greater source of comfort, sustenance, and growth in my life than bookstores. As a child I found refuge from a chaotic home in bookstores. I landed my first bookstore job when I was 17, at a Borders Books and Music in Davis, CA. I have worked at independent bookstores ever since, and I turned 40 last year. I skipped higher education to pursue a life and career in books. Its led me to so much adventure and treasure (of the non-monetary variety, lol). I met Briana while working at a bookstore, which alone has made it all worth it. Ive just gotten so much fulfillment out of this life, and running my own shop was a seed planted in my soul from the very beginning. I want to create the kind of space that has given me so much, and run it to my high standards. Everybody deserves an independent bookstore within walking distance of their home.
Briana: When I was growing up in Sheepshead Bay, Brooklyn, I asked my mom if a bookstore was going to open every time there was an empty storefront. I finally started one in my bedroom (along with an art store and a vet clinicits good to have a diverse portfolio). Working at the Corner Bookstore, where Davi and I met, was a dream come true. It felt like coming home. Even though Ive spent the past ten years as an editor at the Metropolitan Museum of Art, its always felt a bit like destiny that wed end up embarking on this adventure together. We specifically committed during the summer of 2020, when people were leaving New York and the future of the city felt uncertain. It made me want to double down and deepen my roots, and the isolation of the pandemic especially made me want to feel fully embedded in and contributing to my community.
What's your favorite section of a bookstore?
Davi: I will always have a soft spot for the science and nature section. When I encounter a bookstore out in the wild, its the first shelf I visit. I dont know, it seems to hold the most concentrated feeling of discovery for me, and its very aspirational. One day Ill have the time to learn about this incredible universe/planet/body/microbe, or One day Ill be smart enough to understand some of this stuff. I have a science and nature section at home that is full of books I havent read yet. Instead of making me feel guilty or a sense of anxiety because Im not getting any younger, it fills me with an overwhelming feeling of security and comfort. A close second is the humor section. I like to laugh.
Briana: Its gotta be sci-fi/fantasy for me, for similar reasons to Davi, actuallythe feeling of discovery. I would say one of my main qualifications for a book is feeling transported by it, and obviously thats a thing a lot of sci-fi/fantasy books do. I also appreciate the way our societys most pernicious issues and injustices can be viewed with a fresh eye in inventive ways in alternate universesthey can be simultaneously escapist and confrontational. As a genre its grown up and diversified a lot, especially in recent years, which is exciting to see.
What would you say will be your bookstores specialty?
Davi: Lofty Pigeon is a general interest bookstore but well be emphasizing our selection of kids books as well as fiction across all genres and from all corners of the globe and all life experiences. Some sections may be small but that doesnt mean you wont discover something amazing in them. Every single one of the approximately 5,000 books in our store will be hand-selected, which means were carrying only the best or what we think will be of interest based on getting to know our customers. Were not invested in any canon. Our only agenda is to give our customers the bookstore experience they desire. Our real specialty will be customer service. Everyone is welcome at Lofty Pigeon. Once youre inside, youll be greeted warmly and left to browse at your leisure, but were always available to assist. Its our goal to get you the book you want (or the book you dont know you want) as quickly and smoothly as possible. You are going to want to shop with us because we know what were doing, we care about customer service, and were 100% invested in the store and the neighborhood.
Whats your favorite book to handsell?
Briana: Besides my stint at Corner Bookstore 15 years agowhere I met Daviduring which they mostly kept me confined to the basement (I declared myself the Undersecretary of Shipping, but really I was a part-time office clerk), I havent done much booksellingthats Davis arena. But I can say that the book Im always forcing on people is Mikhail Bulgakovs Master and Margarita. I love Russian literature, and this ones my favorite. Incisive and satirical, weird, and immensely satisfying with a fascinating history. I havent met anyone who doesnt like that book.
Davi: Patrick Whites Riders in the Chariot. Its a giant, devastating novel from Australias only Nobel laureate in literature. Its about four outcasts from four very different backgrounds whose fates lead them to the continent. Heres the thingIve never found anybody else who writes like Patrick White. The subtlety of his prose carries a tremendous power, the right word here, or a skipped word there. It got so under my skin that I was having physical reactions to the story. A truly remarkable reading experience!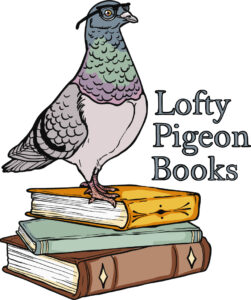 See the progress here, and you can support their Kickstarter here. Yay bookstores!