Literary Hub is pleased to reveal the cover for Kaveh Akbar's forthcoming novel Martyr!, pitched as "a paean to how we spend our lives seeking meaningin faith, art, ourselves, othersin which a newly sober, orphaned son of Iranian immigrants, guided by the voices of artists, poets, and kings, embarks on a search that leads him to a terminally ill painter living out her final days in the Brooklyn Museum."
Here's some more about the book, which comes out early next year, from the publisher:
Cyrus Shams is a young man grappling with an inheritance of violence and loss: his mothers plane was shot down over the skies of Tehran in a senseless accident; and his fathers life in America was circumscribed by his work killing chickens at a factory farm in the Midwest. Cyrus is a drunk, an addict, and a poet, whose obsession with martyrs leads him to examine the mysteries of his pasttoward an uncle who rode through Iranian battlefields dressed as the Angel of death to inspire and comfort the dying, and toward his mother, through a painting discovered in a Brooklyn art gallery that suggests she may not have been who or what she seemed.
Electrifying, funny, wholly original, and profound, Martyr! heralds the arrival of a blazing and essential new voice in contemporary fiction.
And here's the cover, which was designed by Linda Huang: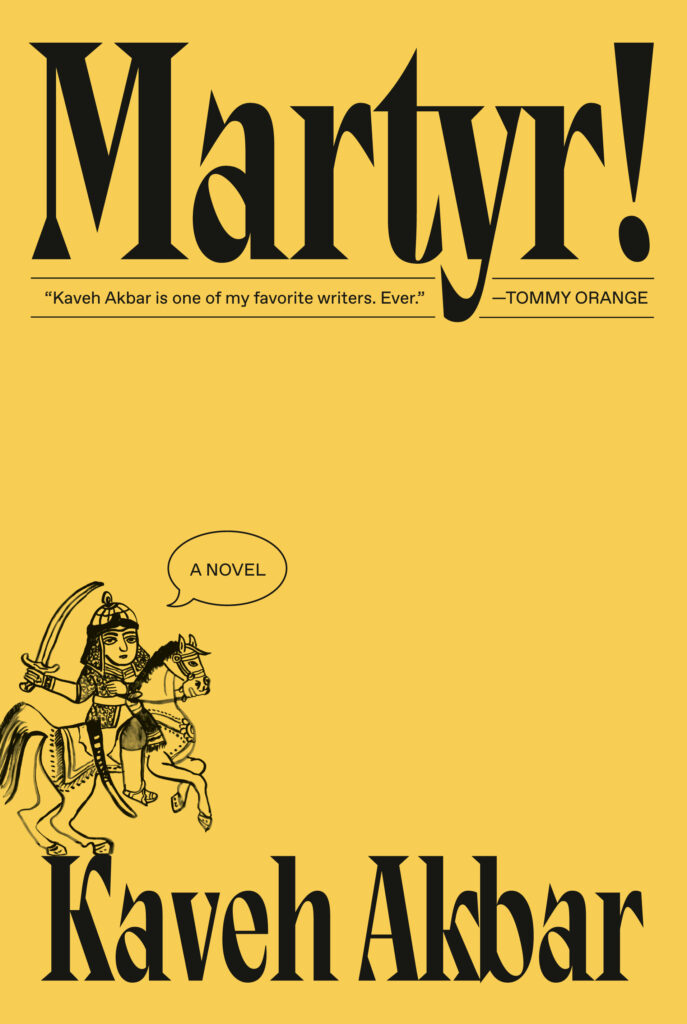 "Despite its heavy themes, I found Akbars novel to be insanely funny," Huang told Literary Hub. "I cackled many times while reading the manuscript. More than anything, I wanted to evoke this unique tragi-comedic tone on the cover. One of the central, recurring images is this Iranian 'Angel of Death' warrior. I experimented with scale and ultimately found the warrior in miniature to be most striking, with 'a novel' set in a deadpan speech bubble. I was also lucky to stumble upon the perfect decorative typeface to activate all that negative space. To me, humor is one of the most alluring qualities in a book (and really, in life) so it was an absolute treat to work on Akbars novel."
"I cant believe how uncannily Linda Huang has captured the spirit of the book with this cover," Akbar added. "It reminds me of the Didion or Baldwin or Roth covers from the late 60s, but with the little rider and the cheeky speech bubble elevating it into the playful and emergent contemporary. I can't get over itchaste and dynamic both, reverent but with a sense of adventure."
Martyr!will be published by Knopf on January 23, 2024. You can preorder it here.