Literary Hub is pleased to reveal the cover forSplinters, the first memoir from Leslie Jamison, the bestselling author of The RecoveringandThe Empathy Exams, coming from Little, Brown early next year. Here's a bit about the book from the publisher:
Leslie Jamison has become one of our most beloved contemporary voices, a scribe of the real, the true, the complex. She has been compared to Joan Didion and Susan Sontag, acclaimed for her powerful thinking, deep feeling, and electric prose. But while Jamison has never shied away from challenging materialscouring her own psyche and digging into our most unanswerable questions across four booksSplintersenters a new realm.
In her first memoir, Jamison turns her unrivaled powers of perception on some of the most intimate relationships of her life: her consuming love for her young daughter, a ruptured marriage once swollen with hope, and the shaping legacy of her own parents complicated bond. In examining what it means for a woman to be many things at oncea mother, an artist, a teacher, a loverJamison places the magical and the mundane side by side in surprising ways: pumping breastmilk in a shared university office, driving the open highway in the throes of new love, growing a tender second skin of consciousness as she watches her daughter come alive to the world. The result is a work of nonfiction like no other, an almost impossibly deep reckoning with the muchness of life and art, and a book that grieves the departure of one love even as it celebrates the arrival of another.
How do we move forward into joy when we are haunted by loss? How do we claim hope alongside the harm weve caused? A memoir for which the very termtour de forceseems to have been coined,Splintersplumbs these and other pressing questions with writing that is revelatory to the last page. Jamison has delivered a book with the linguistic daring and emotional acuity that madeThe Empathy ExamsandThe Recoveringinstant classics, even as she reaches new depths of understanding, piercing the reader to the core. A master of nonfiction, she evinces once again her ability to stitch together the intellectual and the emotional with the finesse of a crackerjack surgeon (NPR).
And here's the cover, which was designed by Gregg Kulick: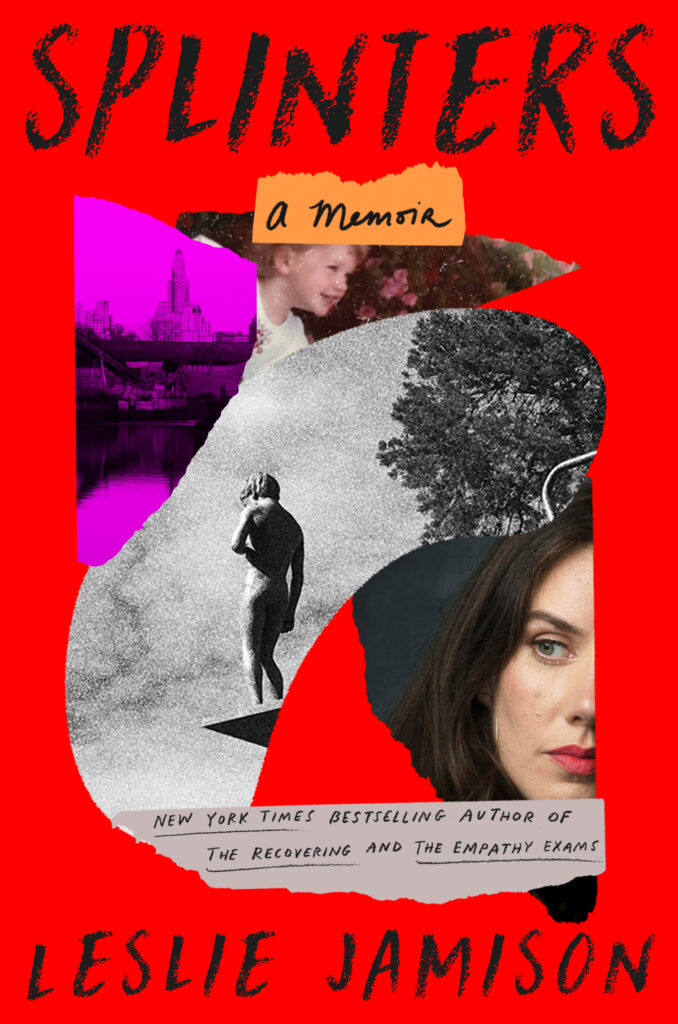 Working on one of Leslies books is always fun and Splinters didnt disappoint," Kulick told Lit Hub.
It was a long, winding road to get to this final cover, as you could expect with such a personal book, but I couldnt be more thrilled with the result. We started off with just an image of Leslie on the cover. It was distressed in an unusual and arresting waylike a crumpled piece of paperbut it didnt feel like alone it was telling the story we needed the cover to tell. As time went on, it really felt like a collage was the right motif to say what we needed to say, particularly with some of the artists Leslie considers in this memoir. Luckily, she provided us with numerous images that were beautiful and interesting and just worked well together. I am thrilled with how the cover came out and hope that it can entice readers to pick the book uptheyll be so glad they did!
"As a girl, I often made collages with my mother, and it felt so gratifying to feel that bond conjured by this breathtaking cover for a book that has motherhood at its core," Jamison added.
In both form and substance, this collage captures the book so powerfully. We see a woman surveying her own past, her own youth, her own city (the Gowanus Canal! a sacred space to me), but we also see, in the arrangement of these torn shards, the work of trying to salvage something brokennot by restoring it to a false whole, but by finding something beautiful in its jagged edges. I love that this cover holds rough edges and smooth ones, glimpses of sculpture and urban skyline, youth and (some) experience locking eyes across the decadesme at 2, and me at 35all against that shocking red, which captures the visceral, spiritual urgency animating the whole book: the pain and salve of trying to build a new life from the broken pieces of whats come before.
Splinterswill be published by Little, Brown on February 20, 2024. You can preorder it here.