Literary Hub is pleased to reveal the cover for Marrying Friends, the forthcoming collection of short stories from Mary Rechner, which will be published by Propeller Books in October. Heres a bit about the book from the publisher:
When her troubled husband dies unexpectedly, mercurial Therese gets tangled in competing desires and demandsher own and those of her friends and family on Long Island. Ambitious in scope yet carefully observed, Marrying Friends deftly illuminates multiple characters as grief forces them to reimagine their lives and relationships. A frank and often wry look at the bewildering bonds between women, men, siblings, parents, and children, this novel-in-stories confirms Rechners talent for capturing how we find meaning not only in our dreams, but also in our desperations.<
And heres the cover, which was designed by Dan DeWeese: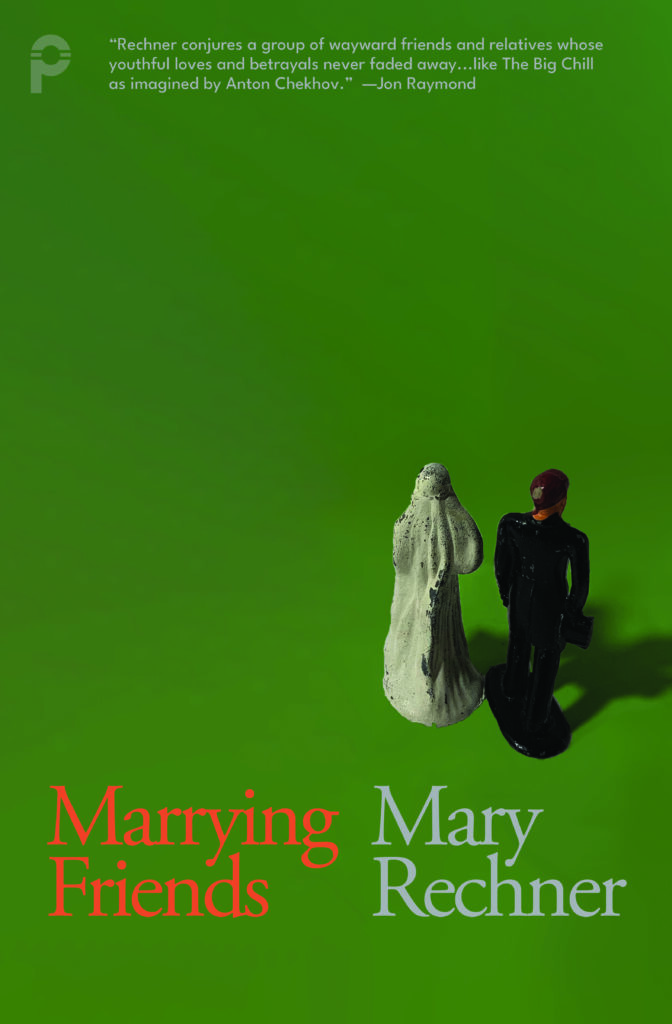 "I know Rechners work well and didnt want to reduce the richness of her characters and their complex emotional connections by producing a cover with clich wedding imagery," DeWeesetold Lit Hub.
But of course I tried anyway, with predictably poor results. I followed those with a couple mediocre designs that didnt use wedding imagery at all. When I found the figurines for sale on the internet, though, their sense of age and damage seemed to offer the right potential, and I became the owner of vintage wedding cake toppers. I dont usually use photography in cover designs, but I do have a degree in film production, so I set up a location and some lights, called my little vintage actors to the set, and went to work. I photographed them from dozens of angles until I captured an image in which theyre moving forward while aware of their shadows, their gazes trained on different points. I felt it was a good performance, thanked them, and put them back in a drawer. There are multiple generations (and multiple marriages) in this novel, so the typography and colors are an attempt to put classic next to contemporary and warm next to cool with a restraint that allows the image to be the focal point.
"Marrying Friends features a passel of people, related by blood or friendship, who love and hurt each other, and understand and fail to understand each other," Rechner added.
What I love about the seemingly simple cover of Marrying Friends is all the subtle tension, the dualities and doubles. At first glance, its mostly open space. A meadow? A moment of silence? Purgatory? The ocean, in some lights, looks green. If you stare and think, though, this cover is busy. Two chipped figurines, bride and groom, once atop a cake, the familiar sweetness cutthe old-fashioned white gown merging with the veil to become almost a shroud.
Bride and groom face in different directions. We glimpse their shadows, but we dont know the source of the light.
The covers foundationspring greenreminds us of renewal implied in the ideal of marriage, but we see the black suit and white dress as an outdated wish for clarity.
The typeface depicts the relationship between book and author: The orange warmth of "Marrying Friends" beside the echoing grey of Mary Rechner. This feels tense, and true, and fair.
Marrying Friends will be published by Propeller Books on October 24, 2023. You can preorder it here.