Literary Hub is pleased to reveal the cover for Grief is for People, a first memoir from the sharp-eyed essayist and novelist Sloane Crosley, which will be published by MCD/FSG on February 27, 2024. Here's a bit about the book from the publisher:
For most of her adult life, Sloane and Russell worked together and played together, as they navigated the corridors of office life, the literary world, and the dramatic cultural shifts in New York City. One day, while Russell is still alive, Sloane's apartment is broken into. Along with her most prized possessions, the thief makes off with her sense of security, leaving a mystery in its place. When Russell dies exactly one month later, his suicide propels her on a wild quest to right the unrightable, to explore what constitutes family and possession as the city itself faces the staggering toll brought on by the pandemic.
Crosley's search for truth is frank, darkly funny, and gilded with a resounding empathy. Upending the "grief memoir," Grief Is for People is the category-defying story of the struggle to hold on to the past without being consumed by it. A modern elegy, it rises precisely to console and challenge our notions of mourning during these grief-stricken times.
Here's the cover, which was designed by Alex Merto: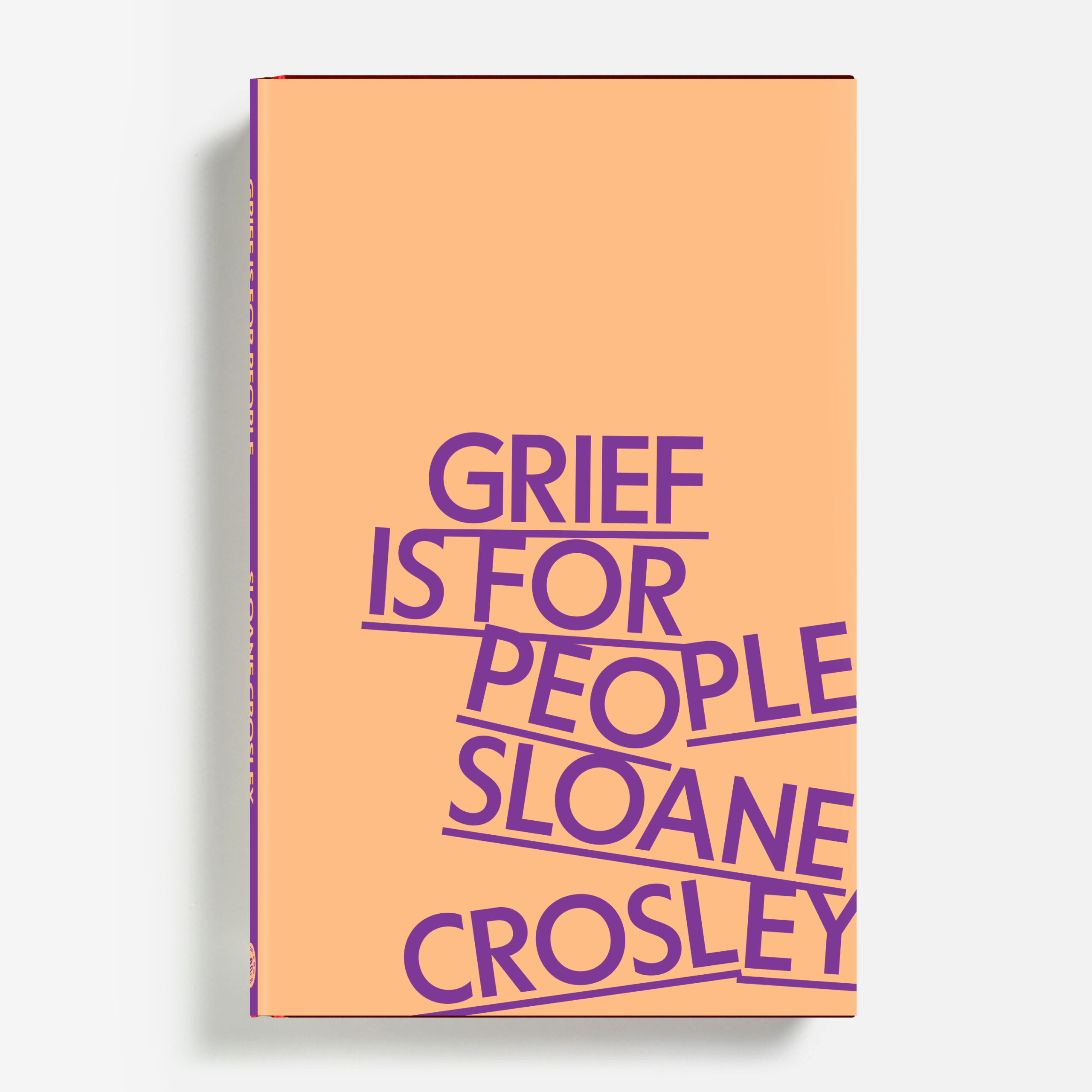 "The broken typography balanced at the bottom of the page serves as a visual representation of the book's exploration of loss," Merto told Lit Hub. "Sloane Crosley's writing style, mixing humor and empathy, played a significant role in shaping the design. The combination of the book's serious subject matter and Sloane's unique tone called for a cover that balances both aspects.
"A good litmus test for one's book cover is to ask oneself: would I want this image framed and hanging on my wall," added Crosley. "This cover gets a resounding 'yes' from me. My only concern with all-font covers is that they tend to lack thematic touchstones. But Alex found such an elegant solution. There's a break-in at the start of the book, followed by the broken and bereft state of grief in the wake of a suicide. So the words themselves are breaking, even slumped, and piled on top of each other just as the losses pile up in the book. And yet, you still get a sense of the tone. I also love the retro color combination."
Grief is for People will be published by MCD/FSG on February 27, 2024. You can preorder it here.