Literary Hub is pleased to reveal the cover forMemory Piece, the latest novel from Lisa Ko, author ofThe Leavers, which will be published by Riverhead Books in March 2024. Here's a bit about the book from the publisher:
In the early 1980s, Giselle Chin, Jackie Ong, and Ellen Ng are three teenagers drawn together by their shared sense of alienation and desire for something different. Allied in the weirdest parts of themselves, they envision each other as artistic collaborators and embark on a future defined by freedom and creativity.
By the time they are adults, their dreams are murkier. As a performance artist, Giselle must navigate an elite social world she never conceived of. As a coder thrilled by the internets early egalitarian promise, Jackie must contend with its more sinister shift toward monetization and surveillance. And as a community activist, Ellen confronts the increasing gentrification and policing overwhelming her New York City neighborhood. Over time their friendship matures and changes, their definitions of success become complicated, and their sense of what matters evolves.
Moving from the predigital 1980s to the art and tech subcultures of the 1990s to a strikingly imagined portrait of the 2040s, Memory Piece is an innovative and audacious story of three lifelong friends as they strive to build satisfying lives in a world that turns out to be radically different from the one they were promised.
And here's the cover, which was designed by Grace Han, Associate Director of Art and Design at Riverhead Books: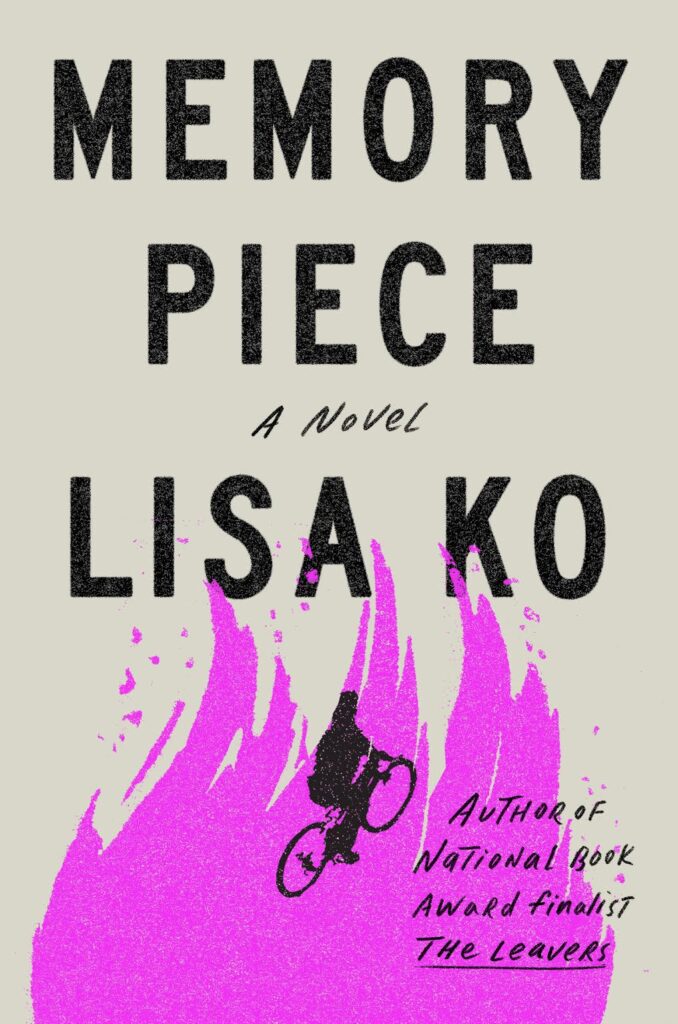 "As an Asian American who grew up in Bergen County, NJ and went to art school in New York, I saw my path overlapping with these characters," Han told Lit Hub. "I was completely immersed in their journeys of self-discovery whether it was rooted in success or disappointment. Growth, like for most, is complex for Giselle, Jackie, and Ellen, but I felt like these characters moved forward with such focused boldness. I wanted to convey this sense of unapologetic drive on the cover."
"Memory Piece began, as some novels do, as a text collage of ideas, obsessions, and enchantments: the friendships and artistic and political work of Asian American women, Jersey mall culture, Web 1.0 diaries, 90s squats, questions of success and legacy," said Ko.
Then came the more extensive work of wrangling the obsessions into a story, following three charactersperformance artist Giselle Chin, tech coder Jackie Ong, and housing activist Ellen Ngas they face difficult choices in order to be free to do the work they love, their friendships evolving and sustaining them throughout their lives.
When I saw Grace Hans cover, I was stunned. Bold and uncluttered, a neon print, it perfectly captured the essence of the book. Id collected a folder of visual inspirations over the years I worked on the novel, including zines and agitprop posters; a black-and-white photo of Kim Gordon on the subway; the cover colors and typography of Vintage Contemporaries paperbacks and Rachel Cusks Outline Trilogy; and the art of On Kawara and Tehching Hsieh. I hadnt shared the contents of this folder with anyone, but Hans image felt a little like magic. It was as if the novel was being seen and understood in ways I hadnt been able to previously put into words.
Memory Piece moves from the protagonists 1980s childhoods to the art and tech subcultures of the 1990s to a New York City of the 2040s. Its both an archive of the past and a vision of the future, and the cover evokes that movement through time with its mix of motion, urgency, and restraint. The strong, clean typography; the striking burst of color; the subtle textures. A figure on a bicycle, going toyoull find out. I hope it draws you in, as well.
Memory Piecewill be published by Riverhead Books on March 19, 2024. You can preorder it here.