Boston beans are a classic New England dish, and a confirmed favorite of Lovecraft's. He loved this dish for its heartiness as much as for its frugality, and wrote to his aunt of enjoying a meal of canned baked beans—a "unique delicacy"—with his friends Kleiner and McNeill, lamenting that a dash of "catsup" would have improved them, "but McNeill— simple soul—keeps none of these worldly, highly spiced devices in his primitive & ascetick larder."
Try this delicious recipe for a warming, simple supper full of flavor. If you don't have time to cook up a batch of Boston beans, try Lovecraft's recipe for beans on toast, described in a 1925 letter to his aunt: "Just you take a medium-sized loaf of bread, cut it into four equal parts, & add to each of these ¼ can (medium) Heinz beans & a goodly chunk of cheese. If the result isn't a full-sized, healthy day's quota of good fodder for an Old Gentleman, I'll resign from the League of Nations' dietary committee!"
A speedy twist on the classic dish, this recipe is vegetarian but you could add 4 ounces chunky bacon pieces at the same time as the celery and garlic. Great with cornbread, hot dogs, grilled cheese, or on hot, buttered toast. They also make a good side for the chicken wings on page 80.
*
Photo courtesy of the Octopus Publishing Group.
Serves 4
Prep + cooking time 40 minutes
2 tablespoons vegetable oil
1 large red onion, finely chopped
4 celery stalks, finely chopped
2 garlic cloves, crushed
1¾ cups canned diced tomatoes
1¼ cups vegetable stock
2 tablespoons dark soy sauce
2 tablespoons dark brown sugar
4 teaspoons Dijon mustard
3¼ cups canned mixed beans, drained and rinsed
¼ cup chopped parsley
1. Heat the oil in a heavy saucepan. Add the onion and cook over low heat for 5 minutes, or until softened. Add the celery and garlic and continue to cook for 1–2 minutes.
2. Add the tomatoes, stock, and soy sauce and bring to a boil, then reduce the heat to a fast simmer and cook for about 15 minutes, or until the sauce begins to thicken.
3. Add the sugar, mustard, and mixed beans and cook for an additional 5 minutes, or until the beans are heated through. Stir in the chopped parsley and serve.
__________________________________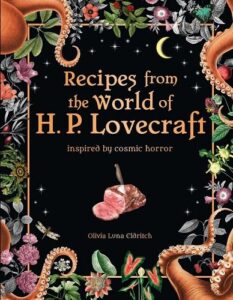 Excerpted from Recipes from the World of H.P. Lovecraft by Olivia Luna Eldritch. Copyright © 2023. Available from Thunder Bay Press.