Literary Hub is pleased to reveal the cover for Uche Okonkwo's debut short story collection A Kind of Madness, which Tin House will publish in April 2024. Here's a bit more about the book from the publisher:
Set in contemporary Nigeria, Uche Okonkwos A Kind of Madness is a collection of ten stories concerned with literal madness but also those private feelings that, when left unspoken, can feel like a type of madness: desire, desperation, hunger, fear, sadness, shame, longing. In these stories, a young woman and her mother bask in the envy of their neighbors when the woman receives an offer of marriage from the family of a doctor living in Belgiumthough when the offer fails to materialize, that envy threatens to turn vicious, pitting them both against their village. A teenage girl from a poor family is dazzled by her rich, vivacious friend, but as the friends behavior grows unstable and dangerous, she must decide whether to cover for her or risk telling the truth to get her the help she needs. And a lonely daughter finds herself wandering a village in eastern Nigeria in an ill-fated quest, struggling to come to terms with her mothers mental illness.
In vivid, evocative prose, A Kind of Madness unravels the tensions between mothers and daughters, husbands and wives, best friends, siblings, and more, marking the arrival of an extraordinary new talent in fiction and inviting us all to consider the question: why is it that the people and places we hold closest are so often the ones that drive us to madness?
And here's the cover, which was designed by Tin House Director of Design and Production Beth Steidle: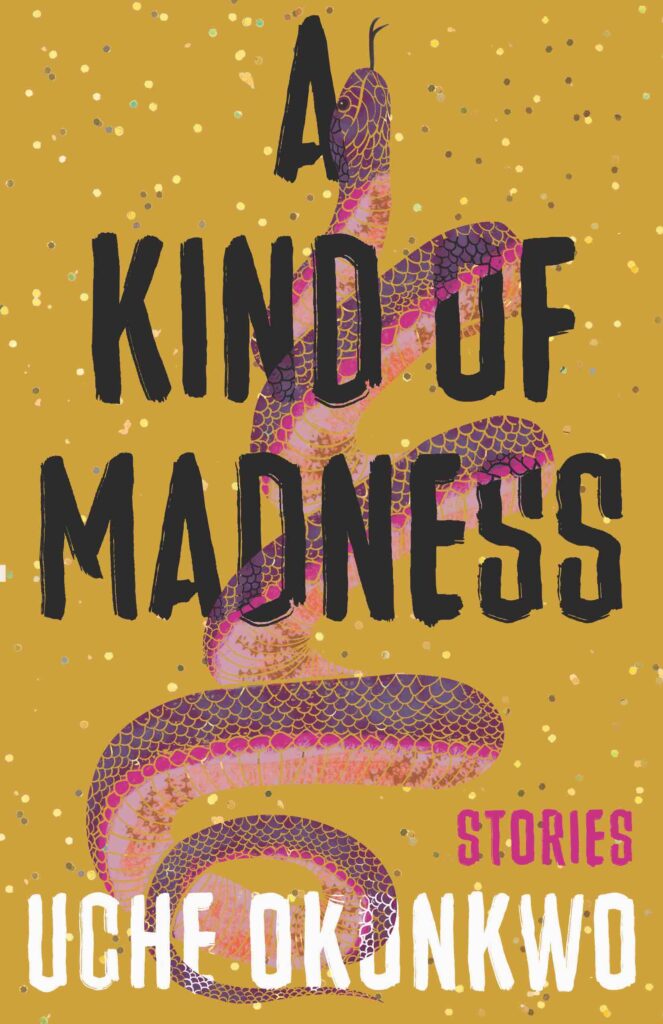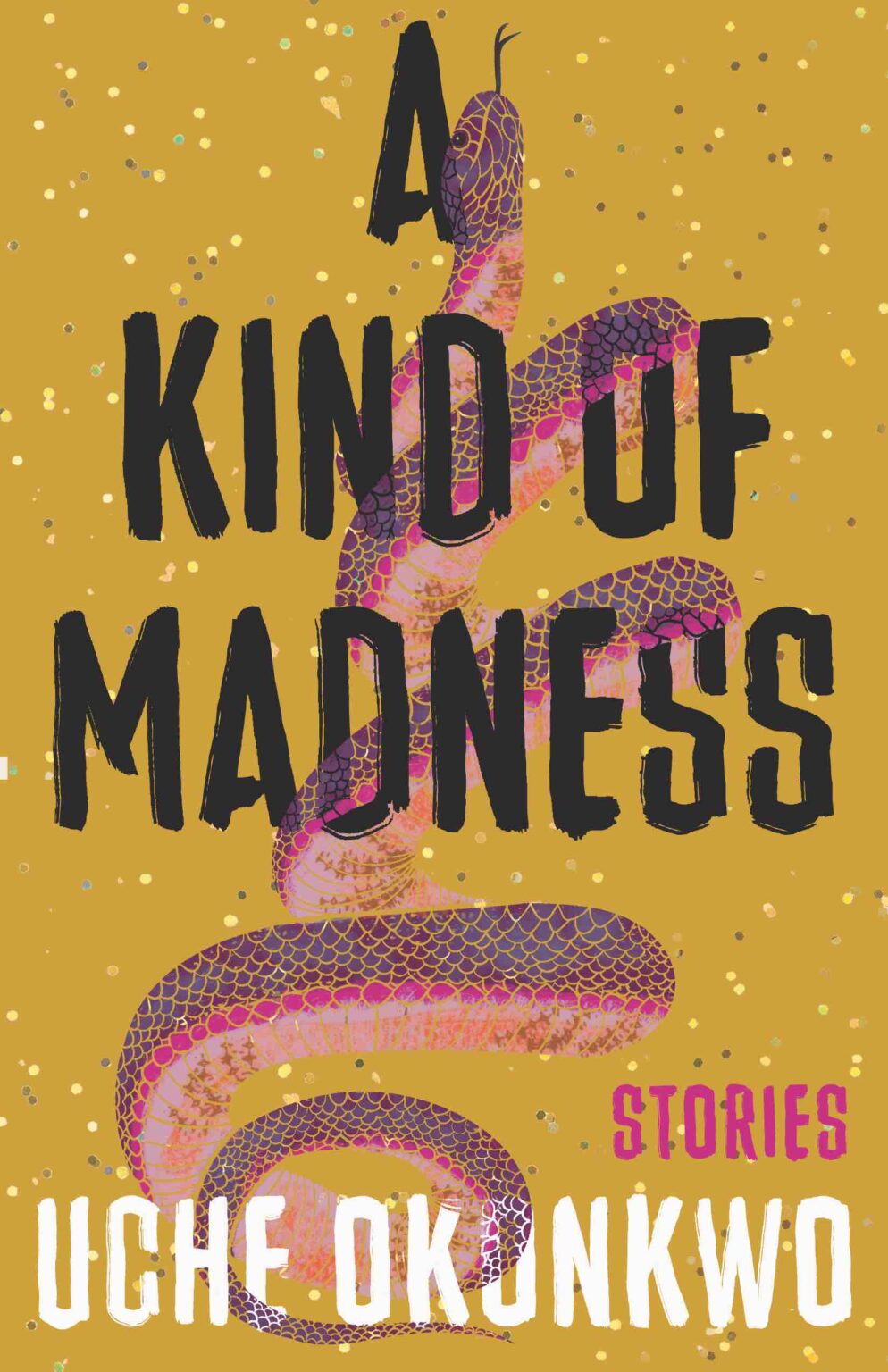 "A Kind of Madness is a searing collection about people in the throes of desire, desperation, jealousy, hunger, and more," Steidle told Lit Hub.
These feelings are layered, colliding; driving the characters to emotional extremes and, at times, literal madness. To visually reflect these themes, we angled towards maximalistbold colors, type, and texture paired with a creature that is unnerving, secretive, and wild (and, readers will notice, a creature that slithers into dreams and visions several times in the course of the collectiona perfect fit).
The exaggerated spiral shape and woven transparency of the snake's body create a sort of dreaminess that better comes into being the closer and longer that you look. The warm pink and purple tones hint at a femininity that is contrasted by the stark black and white type, which appears a little wild and handwritten, as if it has been hastily scrawled. A gold, glittering background adds an overall strange, celebratory quality, all to hallucinatory effect. We hope that the shape of the snake and the metallic background will lend a sense of movement and fluctuation as the physical book is being held.
"Theres so much to love about this cover," Okonkwo added. "I was curious to see what choices the designer would make here, how she would speak to the idea of madness and the different ways that it manifests in the stories in the collection. She nailed it! The vibrant shades of gold, pink, and purple contrast sharply with the dark themes of the stories: the struggle for survival, everyday treachery, betrayal, fraught relationships. Im intrigued by the positioning of the snake. Theres something alluring, but also subtly menacing about this radiant creature weaving through the text, extending itself up beyond the page to whisper something maddening in my ear. I couldnt have imagined a more stunning cover!"
A Kind of Madness will be published by Tin House on April 16, 2024. You can preorder it here.