Literary Hub is pleased to reveal the cover for Crystal Hana Kim's "hauntingly poetic" latest novel,The Stone Home, which will be published by William Morrow in April. Here's a bit more about the book from the publisher:
In 2011, Eunju Oh opens her door to greet a stranger: a young Korean American woman holding a familiar-looking knifea knife Eunju hasnt seen in more than thirty years, and that connects her to a place shed desperately hoped to leave behind forever.
In South Korea in the 1980s, young Eunju and her mother are homeless on the street. After being captured by the police, theyre sent to live within the walls of a state-sanctioned reformatory center that claims to rehabilitate the nations citizens but hides a darker, more violent reality. While Eunju and her mother form a tight-knit community with the other women in the kitchen, two teenage brothers, Sangchul and Youngchul, are compelled to labor in the workshops and make increasingly desperate decisionsand all are forced down a path of survival, the repercussions of which will echo for decades to come.
Inspired by real events, told through alternating timelines and two intimate perspectives, The Stone Home is a deeply affecting story of a mother and daughters love and a pair of brothers whose bond is put to an unfathomably difficult test. Capturing a shameful period of history with breathtaking restraint and tenderness, Crystal Hana Kim weaves a lyrical exploration of the legacy of violence and the complicated psychology of power, while showcasing the extraordinary acts of devotion and friendship that can arise in the darkness.
And here's the cover, which was designed by Ploy Siripant, with art by Hokyoung Kim: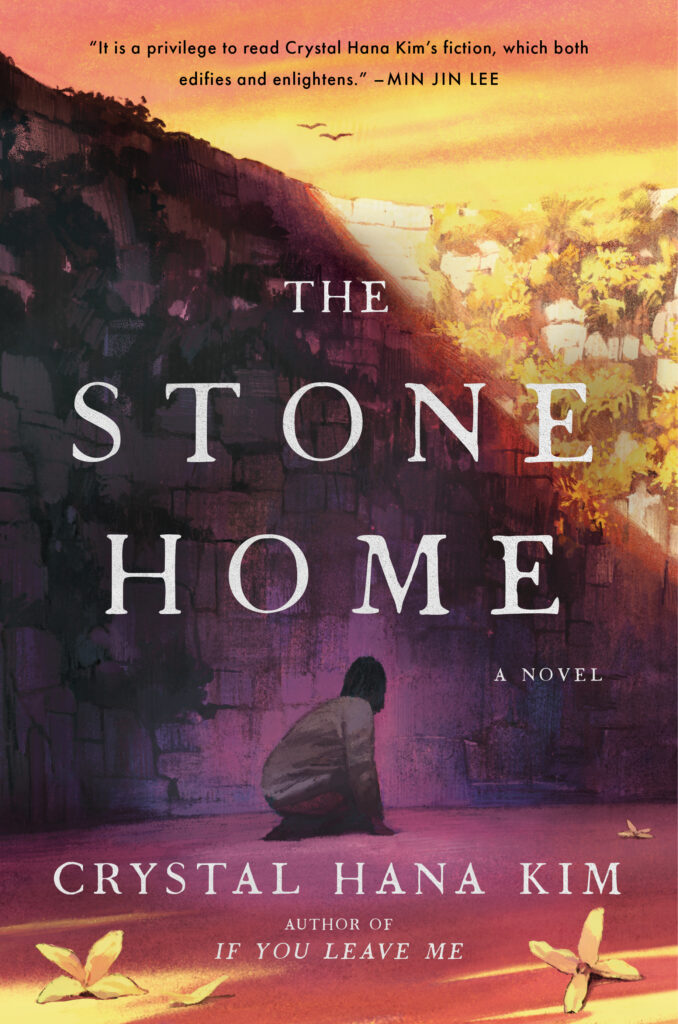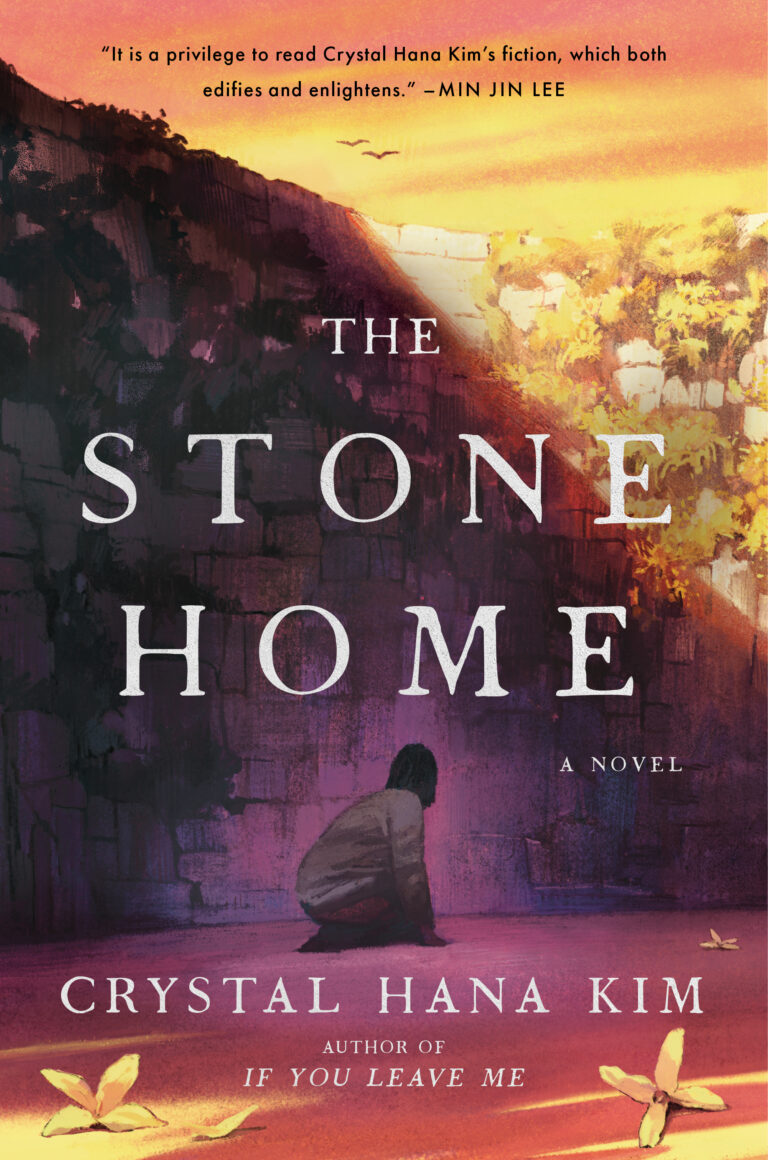 "I gasped when I saw this coverit captures the tone and mood of The Stone Home perfectly," author Crystal Hana Kim told Lit Hub.
The interplay between light and dark asks us to consider what is hidden in the shadows. A crouched figure, an imposing wall. The contrasting, vivid colors. Together, these elements evoke a tension between oppression and hope, as well as a sense of mystery.
A strong cover can act as a signal, hinting at what lies within the books pages. I love how this image highlights the yellow forsythia flowers. Forsythias are emotionally significant but subtle symbols in my novel, as I chose to name them only in Hangulas . Seeing these yellow blooms will remind the reader to mark the s arrival in a scene. Likewise, the two birds in flight hold multiple meanings. As a writer, I enjoy leaving clues, and Im thrilled that this cover alludes to these treasures.
I am so grateful for Ploys vision and care, and for Hokyoung Kims artistry.
"Ive loved Crystals writing since working on the cover for her first novel, and was thrilled for the opportunity to work with her again on The Stone Home," designer Ploy Siripant added. "We knew from the start that we wanted to feature an illustration of a high stone wall to capture a sense of being trapped, and a longing to escape. Though the story delves into a dark historical moment, it is about the power of human connection to find hope and community in the midst of suffering. I wanted this to come across in the art, so I commissioned the incredibly talented illustrator Hokyoung Kim to execute our vision. She captured the perfect balance of despair and hope that fits the storyand were overjoyed with the final design."
The Stone Homewill be published by William Morrow on April 2, 2024. You can preorder it here.