Literary Hub is pleased to reveal the cover for Wei Tchou's Little Seed, "an experimental memoir that braids together the narrative of the author's relationship with her brother and family with a deeply personal field guide to ferns," which will be published by Deep Vellum/A Strange Object in May. Here's a little bit more about the book from the publisher:
The chapters move associatively, commenting on each other indirectly and drawing out questions of assimilation, race, class, gender, nature and the general problem of being and knowing. When the author's brother has a psychotic break, the rigid structure of the book itself breaks apart and the protagonist adventures to the cloud forest of Oaxaca in order to truly live: to know the world by experiencing it rather than reading about it or following the direction of others. Some persistent themes throughout the book: What does it mean to be Chinese? What is love and how best to love? What really is a fern?
And here's the cover, which was designed by Michu Benaim Steiner: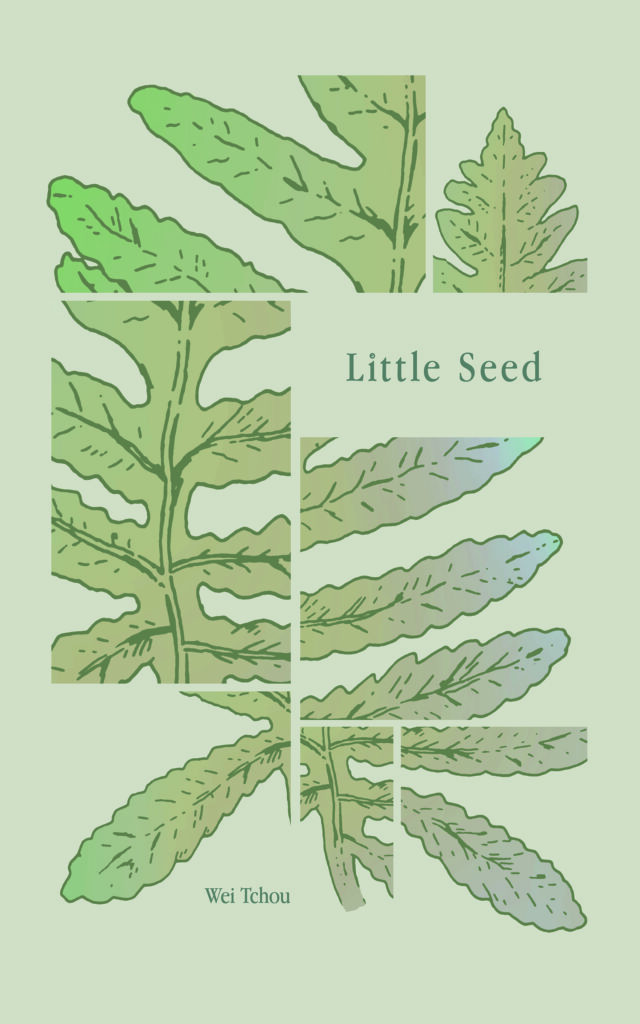 "The cover was shaped by three different sources," designer Michu Benaim Steiner told Literary Hub.
The first was the book, which just needs to be experienced, so capturing how it feels became a goal. Little Seed is a stunning memoir. Wei Tchou just has a way of making connections between nature, experience, and history that I was really taken by, and which informed a lot of the design references Luis Carlos Redondo and Alexander Wright (my colleagues from creative studio In-House Intl) and I drew from.
Tchou sent a sharp creative brief. She wanted to nod to the visual language of field guides, but infuse it with emotion, and a bit of humor. Her field guide references featured photos or illustrations with relatively small typesetting for the titles and authors.
And finally, there are fern illustrations that Emma Hunsinger and Tillie Walden created to appear throughout the book. Most of the designs we developed as options feature modified versions of those illustrations, which draw a visual connection that readers will only fully recognize once they dive in.
We placed the fern illustrations onto creamy, light backgrounds that reference the field guides. Then we experimented with the artwork to capture some of the patterns and moods from the book. It finally came down to combining subtle but kind of magical colors and breaking apart the fern into a grid that wraps around the small serif title.
"I'm just starting to understand how much of Little Seed is an articulation of my lifelong conflict between wanting to collaborate with people and being afraid to," added author Wei Tchou.
Maybe the book is ultimately about how I thought a collaboration with ferns would be safer! I think this impulse must have inspired my idea, many months ago, to ask my best friend, the cartoonist Emma Hunsinger, and her partner, the cartoonist Tillie Walden, to illustrate some ferns for the book.
I've always loved the way field guides look, with their exact botanical sketches, and Emma and Tillie's drawings have a playful, optimistic quality that I knew would contribute to the overall feeling of the bookprecise but imaginative, somber but filled with light. For the cover, Michu Benaim Steiner scrambled Emma and Tillie's illustration of a sensitive fern like a tangram and added a sheen of iridescence. (Some context: The sensitive fern, Onoclea sensibilis, is an important fern to the book and to me; I love its strange look and the fact that it is native both to China and to the United States. And iridescence is a quality that scientists think some tropical ferns may have developed for survival.) Michu's new image gently conveys them emotions of my memoir, and I'm so grateful to Tillie and Emma for their beautiful, lively drawing. It's very meaningful to me that the cover of Little Seed is the result of a creative collaboration with other artists.
Little Seed will be published by Deep Vellum/A Strange Object on May 14, 2024.
You can preorder it here.