Literary Hub is pleased to reveal the cover of Lilly Dancyger's forthcoming essay collection about female friendship, First Love, which will be published by The Dial Press in May. Here's a bit more about the book from the publisher:
When Lilly Dancygers beloved cousin Sabina was murdered just as both girls were entering their young adult lives, the shock and grief altered her perception of what it meant to be a woman in the world, and rippled through her closest friendships. The loss of her first loveSabinabecomes the springboard for this bold and refreshing exploration of the bonds between women, from the intensity of adolescent best friendships and fluid sexuality to mothering and chosen family.
Each essay in First Love is grounded in a close female friendship in Dancygers life, expanding outward to dissect cultural assumptions about feminine identity and desire, and the many ways women create space for each other in a world that wants us small. Seamlessly weaving personal experience with pop culture and literature ranging from nineteenth century fairytales to true crime, Anais Nin and Sylvia Plath to Heavenly Creatures and the "sad girls of Tumblr, Dancyger's essays form a kaleidoscopic story of a life told through friendships, and an incisive exploration of what it means to love each other.
First Love elevates friendships to the love stories they truly are, giving them the deep consideration that romantic relationships have enjoyed for centuries. Though friendship will never be enough to keep us safe from the dangers of the world, Dancyger reminds us that love is always worth the risk, and that when tragedy strikes, its our friends who will help us survive.
And here's the cover, which was designed by Sara Wood: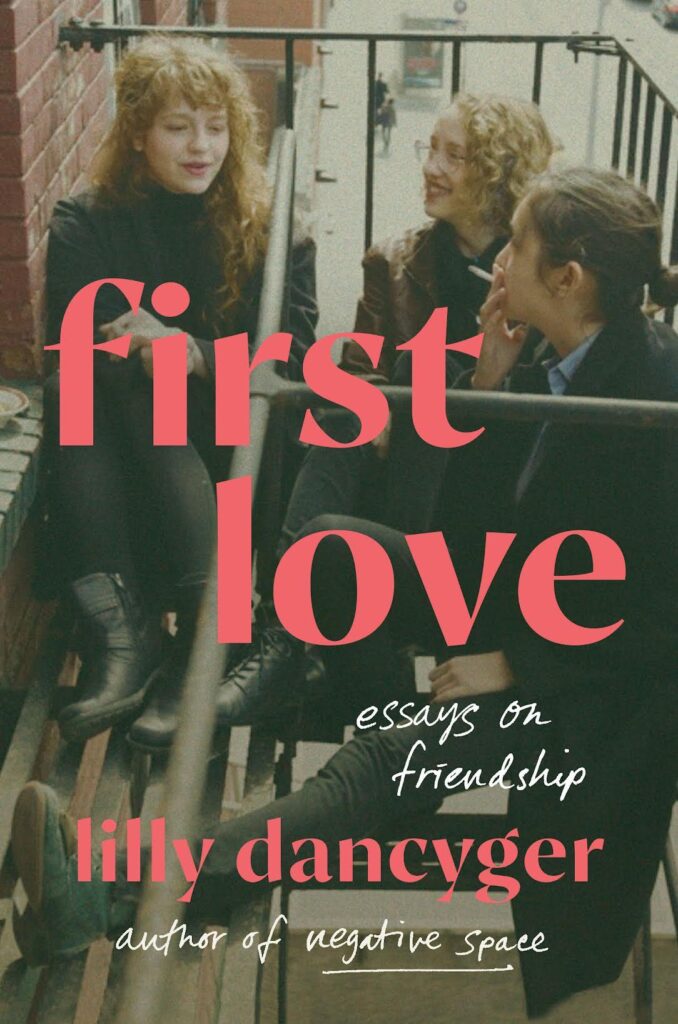 "This cover came together pretty intuitively," Wood told Literary Hub. "While we also explored some fine art photography that captured the tender ferocity of girlhood, Lillys own photo of her and her friends on a fire escape, sharing ideas, cigarettes, and loving gazes, said everything that needed to be said about this book. Lilly is so good at describing young female friendship, the way that these tight connections ground, buoy, and challenge us, and this image captures a bit of that magic. You can tell that these three are not just friends, but chosen family. I wanted the type to be slightly sweet and almost run hot, but not in a way that would overwhelm or work against the tone of the image, hence the all-lowercase treatment in a fiery coral."
"When we first started talking about the cover forFirst Love, my editor asked what emotion I wanted the cover to evoke," said Dancyger.
I loved that question as a starting point, and replied that I wanted the cover to feel like going to dinner on a warm summer evening with an old friend you haven't seen in a while, spending hours drinking wine and laughing and catching up and remembering how much you love this person. You're having so much fun, but theres also a layer of sadness because you miss the old days when you used to see this friend all the time, and you know it'll be months before you have another night like this together. I knew as soon as I saw the first iteration of this cover that this was it, because when I look at this photo of me and two of my closest friends on the fire escape of my old apartment, I feel exactly that bittersweet nostalgia that I described.
This photo was one of many that I sent in a long document of covers and styles that I like, and images that captured the vibe of the book (almost all of which showed groups of young women together, sharing space in a comfortable and intimate way). I figured I might as well include some photos of me and my friends, so the cover designers could see the actual people that this book was about and maybe draw some inspiration from that. I didnt expect them to actually use any of the photos I sent, and at first I was a little nervous about having my face on the cover. The collection is already so personal and exposing! But this photo so perfectly captures everything that the book is aboutthe richness of the worlds created within friendships, the love and closeness and even the precariousnessI knew we had to go with it. It was also taken as part of a series that the photographer,Mamie Heldman, did about chosen family, so it felt extra appropriate to use for the cover ofFirst Love.
First Love will be published by The Dial Press on May 7, 2024. You can preorder it here.