Literary Hub is pleased to reveal the cover for Emily Raboteau's forthcoming book,Lessons for Survival: Mothering Against "The Apocalypse", in which she "uses the lens of motherhood to craft a powerfully moving meditation on race, climate, environmental justiceand what it takes to find shelter." Lessons for Survival will be published in March by Henry Holt; here's a little more about the book from the publisher:
Lessons for Survivalis a probing series of pilgrimages from the perspective of a mother struggling to raise her children to thrive without coming undone in an era of turbulent intersecting crises.
With camera in hand, Raboteau goes in search of birds, fluttering in the air or painted on buildings, and ways her children may safely play in city parks while avoiding pollution, pandemics, and the police. She ventures abroad to learn from indigenous peoples, and in her own family and community discovers the most intimate meanings of resilience. Raboteau bears witness to the inner life of Black women/motherhood, and to the brutalities and possibilities of cities, while celebrating the beauty and fragility of nature. This innovative work of reportage and autobiography will appeal to readers of the bestsellerAll We Can Saveand Joan DidionsThe White Albumalike.Lessons for Survivalstitches together multiple stories of protection, offering a profound sense of hope.
And here's the cover, which was designed by Ian Koviak: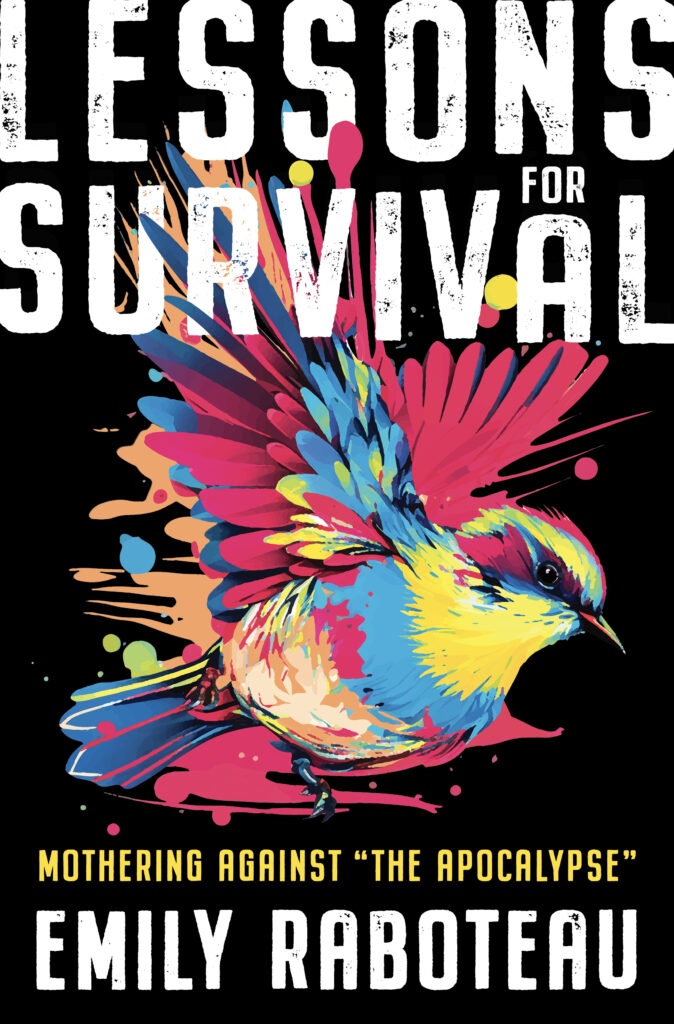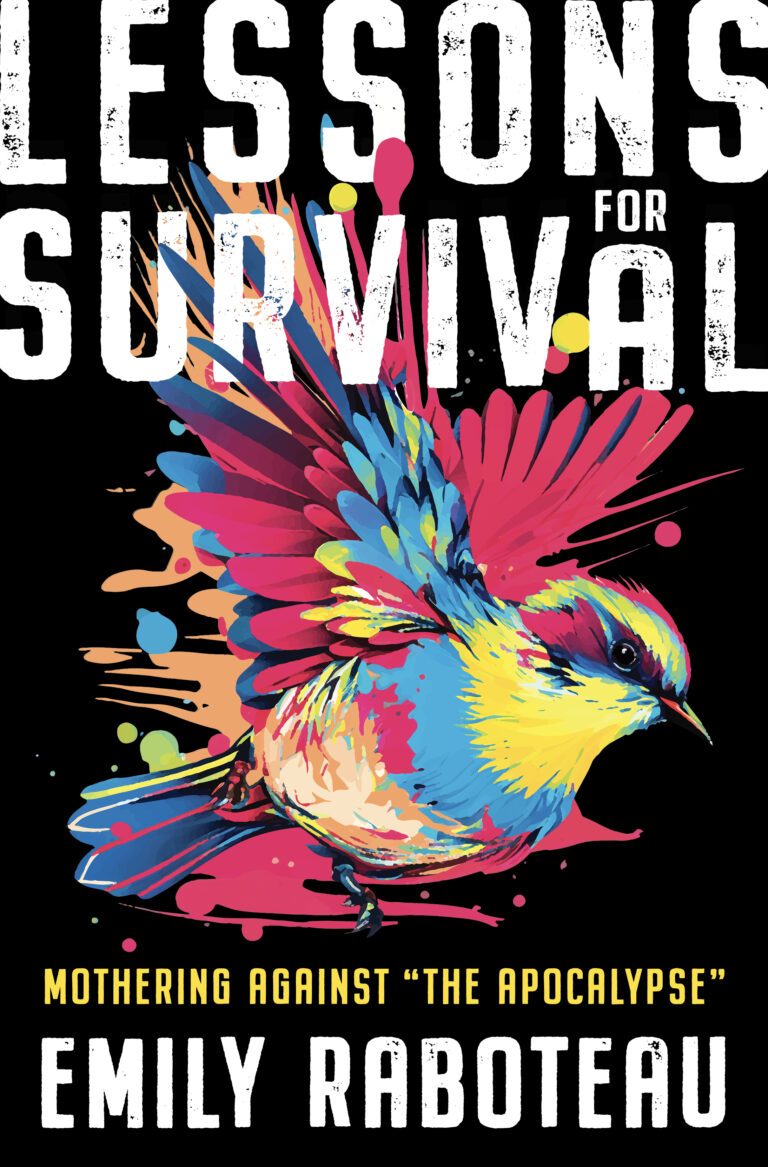 "At the onset of the project, it was explained that the author lived in Washington Heights, and there is a big Audubon society presence there, as well as many murals around the streets," Koviak told Literary Hub.
Emily's book touches on various social issues, both local and global, but is also about being a parent and raising a Black family in a gentrifying community of color. That and Audubon are shrouded in a racist past. So, the bird became a sort of multi-faceted and loaded graphic to focus on.
Early on, we aimed at the idea of the Audubon murals, but they didn't quite lend to a great, focal cover shot. I did hope that one of the murals would work, but it just always had some element on it that didn't quite feel like we were telling the right story. The decision to use a bird to convey freedom from racist ideas and oppressive social forces and a mama bird seemed the right approach. I wanted to find art that felt a bit graffiti-ish and like something you'd see on a mural. Many of the murals in the author's photograph collection are painted on brick walls/corrugated gates etc., and I wanted a bit of that sensibility without getting overtly graffiti/grunge about it.
I often find that with books like this that deal with complex social issues, you want something that has hopeful energy but also feels somber, grounded, and sure of itself. Playing on the bird mural theme, I was able to find a bird illustration with just the right amount of painterly splatter to evoke urban wall art and set it against a dark background to allow it to become the focal energetic message of hope, freedom, and justice. Coupled with a bold yet rough and uneasy title font that gave a nod to the urban setting, it all came together with just the right tone to echo the author's voice.
It's great to get a slam dunk on a project like this. The cover needs to become a sort of brand, and the readership needs to be able to say, "Have you read that book, you know the one, it's black and has that super colorful bird on it!?…" I always visualize people sitting on a park bench or on the subway or bus reading. How will that book look in the hands of the reader in that context?
I truly hope the author digs it as much as I do, and hopefully, it becomes a memorable cover for an important book for our times.
"I'm grateful to Ian for this striking design," Raboteau said. "It gestures visually at the hundreds of bird murals I photographed in my neighborhood and that appear in this book, but it also looks like a graphic I would wear. I love how colorful the bird is. I'm curious about her. What species is she? I like how she balances the grave title with admirable elan. Behold! Whatever forces have conspired to threaten her have not ruffled her feathers. As an environmental writer taking on the climate crisis as it affects frontline communities, one of the biggest struggles is striking a balance of tone between grim reality and hope. Or, as Barry Lopez wrote me shortly before he died when I admitted to that struggle: 'Perhaps one of the problems were having as writers around this issue is that we dont know how to paint a dark enough picture and then follow this with an evocation of humanitys strengths that empowers or animates people sufficiently to keep them from caving in the face of the dark picture.' I notice and appreciate in Ian's design that the bird is bursting out of the dark, fully animated, a bright being daring us to be as bold."
Lessons for Survivalwill be published on March 12, 2024. You can preorder it here.