Literary Hub is pleased to reveal the cover for Dorothy Chan's fifth collection of poetry, Return of the Chinese Femme, which will be published by Deep Vellum in April. Here's a bit more about the book from the publisher:
An unabashed exploration of queerness, excess, identity, and tenderness from award-winning poet Dorothy Chan.
The speaker in Dorothy Chans fifth collection, Return of the Chinese Femme, walks through life fearlessly, forehead forever exposed, the East Asian symbol of female aggression. Shes the troublemaker protagonistthe So Chinese Girlthe queer in a family of straights the rambunctious ringleader of the girl band, always ready with the perfect comeback, wearing a blue fur coat, drinking a whiskey neat. They indulge on the themes of food, sex, fantasy, fetish, popular culture, and intimacy.
Chan organizes the collection in the form of a tasting menu, offering the reader a taste of each running theme. Triple sonnets, recipe poems, and other inventive plays on diction and form pepper the collection. Amidst the bravado, Return of the Chinese Femme represents all aspects of her identityAsian heritage, queerness, kid of immigrants storyin the most real ways possible, conquering the world through joy and resilience.
And here's the cover, which was designed by Christina Vang, featuring a photograph by Grace Sydney Pham: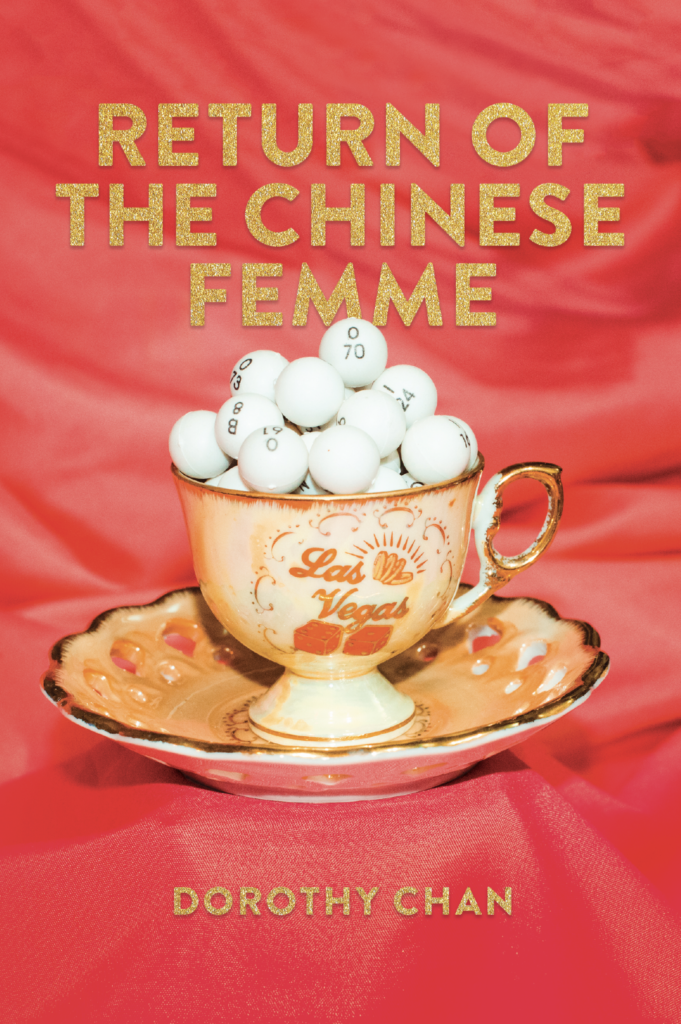 "The cover features a photograph of bingo balls by Grace Sydney Pham," Vang told Lit Hub. "Building on the idea of money, gambling, and Chinese culture, the cover includes glittery gold text and a full red cover to look like a red money envelope. Throughout the book, circular graphics elements are used to resemble bingo balls and qian cash coins."
"The still life photograph "Your Inheritance" was composed of various thrifted odds and ends: a Las Vegas cup and saucer, bingo balls from a bingo set, and a polyester satin fabric," added Pham. "I enjoy frequenting thrift stores and estate sales, finding value in cast off, unwanted things, and assembling these various cast-offs in odd, nuanced arrangements. With this still life, I wanted to poke fun at the tension between saving money and prized possessions for one's descendants versus gambling it away in the later stages of life. There's an additional, personal meaning to this photograph and my photography practice for me; both of my parents are hoarders, and I've inherited this hoarding behavior, which I've tried to justify or redeem by taking still life photographs."
"Return of the Chinese Femme follows my poetic tradition of riffing on Star Wars titles," said Chan.
My first full-length was Attack of the Fifty-Foot Centerfold, followed by Revenge of the Asian Woman. And now its time for Return. My poetics have always been over the top and campy as hell, yet equally elegant and thoughtful. The architecture and ethos of Las Vegas is all the above. Its no coincidence that Las Vegas is my hometown. My parents are Chinese immigrants from Hong Kong who always dreamed of making Las Vegas our home, ever since we vacationed there back at the turn of the millennium.
The day my editor Sebastin Pramo showed me Grace Sydney Phams photograph, I cried. He hit the nail on the head. The red satin fabric gives Bond Girl mixed with Old Hollywood glamour. I absolutely love the lettering on the cup juxtaposed with the texture of the saucer. But Im most taken by the sentimental part of Phams story: the ways in which her parents obsessions influence her as an artist.
Nostalgia is just about the hardest sentiment to express. Designer Christina Vangs decision for a full-on red cover, along with the bold gold lettering adds onto this sense of nostalgia. I feel like I am six years old again, with my parents in New Yorks Chinatown, receiving red envelopes on Lunar New Year. Or maybe I am ten years old again, embracing the glittering gold marquee that lures me inside the New York-New York Hotel and Casino.
Return of the Chinese Femmewill be published by Deep Vellum on April 30, 2024. You can preorder it here.