Literary Hub is pleased to reveal the cover for C. Michelle Lindley's debut novel,The Nude, which will be published by Atria in June. Here's a little bit about the book from the publisher:
A gripping, provocative, and sensual debut novel about an art historian who journeys to a Greek island to acquire a found sculpture for an American museum and quickly becomes immersed in a cultural tug-of-war and, soon after, tangled in a love affair with her translator and his wife.
An island off the southern coast of Greece. 1999. Art historian Elizabeth Clarke arrives with the intent to acquire a rare female sculpture. But what begins as a quest for a highly valued cultural artifact evolves into a trip that will force Elizabeth to contend with her career, her ambition, and her troubling history.
Disoriented by jet lag, debilitating migraines, and a dependence on prescription pills, Elizabeth turns to her charming and guileless translator to guide her around the labyrinthine island. Soon, the islands lushnessits heat and light, its textures and tastestake hold of Elizabeth. And when shes introduced to her translators inscrutable wifea subversive artist whose work seeks to deconstruct the female formshe becomes unexpectedly enthralled by her. But once the nudes acquisition proves to be riskier than Elizabeth could have ever imagined, Elizabeths fate and the statues are called into question. To find a way out, Elizabeth must grapple with her past, the role shes played in the art trade, and the ethical fallouts her decisions could leave behind.
The Nude is an evocative and intense exploration of art, cultural appropriation, and what it means to be a woman helming morally complicated negotiations in a male-directed world.
And here's the cover, which was designed by Kelli McAdams at Atria: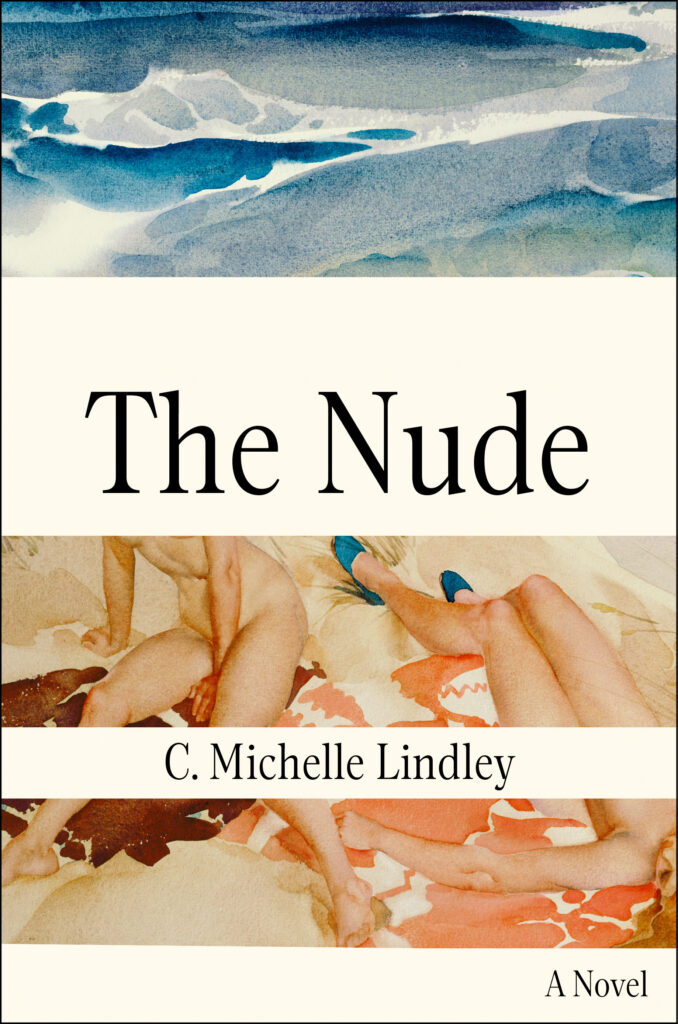 "Finding our way to this cover was an interesting challenge. I started looking at paintings, and as soon as I came across this watercolor by Scottish artist Sir William Russell Flint, I knew I wanted to use it," McAdams told Lit Hub. "I love the intimacy and the honesty of it, how the women pictured seem blissfully unaware that theyre being observed, at ease in each others company. I liked the idea of cutting up this softness with something stark to convey the sense of displacement the narrator feels throughout the novel. Hiding the central figures face felt like a good way to emphasize the voyeurism of the image as wellthe idea of seeing versus being seen."
"C. Michelle Lindley's debut novel is literary fiction at its bestbeautiful, lyrical writing, emotionally engaging characters, with a strong and moving message at its core," said editor Jade Hui. "I was initially drawn to this story because of Elizabeth, her determination to take control of her path forward, her gradual openness as she comes to a different view of the world and the beauty within it. What unfolded is C. Michelle Lindley's shrewd exploration of moral boundaries and what it takes for a woman to hear her own voice after years of shouting from within herself. Seductive, propulsive, and entirely engrossing, The Nudeis a lush, satisfying reading experience that will have you in its grasp until the very last page."
Imgrateful for the talented designerof this cover, whohascreated a timeless and mesmerizing portal into The Nude," added Lindley. "The artwork is visually stunningtheres a depth and emotionality to its beauty. An ominousness in the details. The extra white space above the title. The movement of the two figures, leaning both toward and away from one another. The seething waves. Even the color palette (that brooding red!) strikes me as portentous. At first glance, the scene might read as bright and blissfulaspirational, even. (Wouldnt I like to find myself on that beach?) But on another look, a truer, stranger scene shifts into focus. Its this sort of line that the novel itself seeks to blurand I think the designers have captured it perfectly here. How much it conveys, and perhaps more importantly, how much it leaves hidden, too."
The Nude will be published by Atria Books in June 2024.